30 April 2012 Edition
FÓGRAÍ BHÁIS
Volunteer Ronan Chambers, Sligo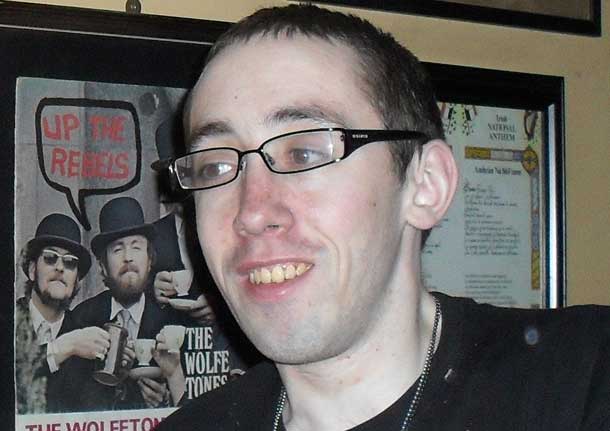 REPUBLICANS throughout County Sligo have been saddened by the recent and untimely death of our comrade, Volunteer Ronan Chambers. With his passing Sligo has lost an idealistic young republican activist who possessed a strong sense of social justice.
Born in 1981 in Sligo, Ronan was the only surviving son of Malachy and Maeve Chambers as his brother and sister both died at an early age.
Diagnosed in his early years with Cystic Fibrosis, Ronan never allowed this illness to deter him from living a full and active life. Despite having to be hospitalised on frequent occasions due to this very serious illness, he still insisted on living his life to the maximum. Overcoming the sad loss of his mother in 1989, Ronan continued to live with Malachy until he moved into his own home in 2004, where he later lived with his long-time partner, Aisling Doddy.
Qualified as a computer engineer, Ronan revelled in pulling apart a PC or tinkering under the bonnet of a car. He also subjected himself to many a wet Sunday in Markievicz Park watching the Sligo county team in their vain efforts to capture Sam.
Coming from a staunchly republican background where both his parents were active, it was no surprise when Ronan joined the Republican Movement at the age of 16. Irrespective of the curtailments that his illness might cause, he always insisted on playing a full and active role in every way possible.
Ronan's comrades ensured that his funeral received full republican honours. His Tricolour-draped coffin was accompanied from the funeral home to Sligo Cathedral by a guard of honour of local republicans. The following day, led by a lone piper, his comrades again fell in to march with him to Sligo Cemetery, where he was laid to rest.
Speaking at the graveside, Seán MacManus, who delivered the oration, said: "I'm proud to say that I remember Ronan from when he was a small boy. He was the pride and joy of his mother, Maeve, and his father, Malachy."
"Given his family's history of support for a reunited Ireland, it was no great surprise that Ronan sought to join the Republican Movement as soon as he came of age to do so. Despite frequent bouts of sickness, Ronan still managed to play an active part. He was always willing, always prepared to do his share; he never used his illness as an excuse.
"Ronan's life-long battle with Cystic Fibrosis is now over but his courage and bravery will remain as an inspiration to all of us who had the good fortune to know him."
The Republican Movement throughout County Sligo extends deepest sympathies to Ronan's partner Aisling, his father Malachy, his aunt Martina and to his family and friends.