30 April 2012 Edition
FÓGRAÍ BHÁIS
Jim Ferry, Donegal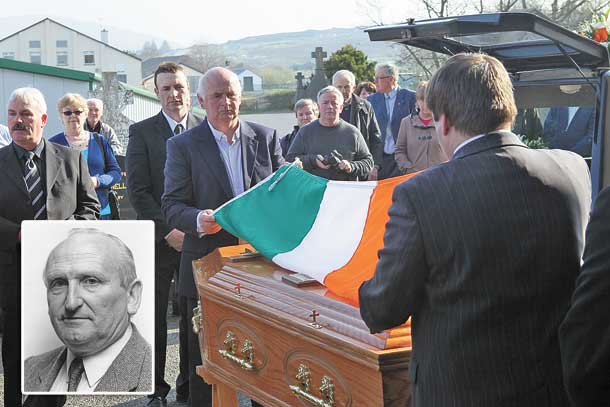 IT WAS with deep sadness that republicans in Donegal and Derry learned of the death of Jim Ferry from a long illness at the end of March which he bore with great dignity and courage.
Jim Ferry had served the Republican Movement in many capacities for over 50 years. Jim first got involved with  the Movement in the 1950s, attending Easter commemorations. He was involved in the Civil Rights campaign and was one of the founders of the Derry Citizens' Defence Committee which was set up in 1969. When the split came in 1969, Jim went with 'the Provisionals' and was one of the founder members of the organisation in Derry.
On the arrival of the British Army after the riots of 1969, Jim was not fooled by their presence and came to recognise at an early stage that they were here to protect British interests and not the nationalist people. Jim began recruiting for the IRA and over the next couple of years became very active in the Army until he was forced to go on the run in 1971, one of the first republicans to do so, ending up in Buncrana, County Donegal.
Jim continued his republican activities and moved to Bundoran for a couple of years. After returning to Buncrana in 1975, Jim was arrested the following year at Bridgend, County Donegal,  in possession of  weapons and explosives. He was charged at the Special Court and remanded to Portlaoise Prison. During that year relationships between the prisoners and Screws got really bad due to changes that the then Coalition Government  tried to introduce into the jail. The prisoners protested, eventually going on hunger-strike in 1977. Jim was one of the 20 prisoners who embarked on the hunger-strike and was on hunger-strike for 47 days before the authorities gave in and reinstated their political status. On his release in April 1981, Jim involved himself with building Sinn Féin in Donegal. It was here that he met his long-time friend, Eddie Fullerton. He got involved in the H-Blocks campaign, attending many meetings and marches. Jim and Eddie became inseparable, always seen together organising and building Sinn Féin throughout Inishowen. So when the news came through that his comrade and friend had been assassinated at his Buncrana home in 1991 by the UDA, it devastated him.
After Eddie's funeral, Jim stepped into the breach and was co-opted onto Buncrana Town Council in place of his late friend and later stood successfully for Eddie's seat on Donegal County Council.
When asked in recent years about the direction and strategy that republicans were now following, he said he was in full support. "It's great that no one has to go to jail or be killed," he said. "What we have to do now is get the people behind us and build a movement that will deliver us a united Ireland."
The Republican Movement has lost a great friend and comrade in the passing of Jim Ferry and offers its deepest condolences to his partner Jenny and son Noel.