30 April 2012 Edition
FÓGRAÍ BHÁIS
Mícheál Doherty, Donegal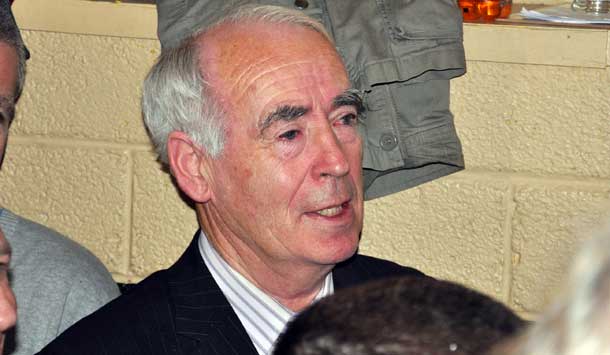 MÍCHEÁL DOHERTY was a gentleman, a great character, a loving father and grandfather, and he will be deeply missed by many, especially his family.
Mícheál was one of those men who made a positive impression on all who knew him. With an infectious smile, his easy-going nature ensured that he won friends of all ages easily. He was full of life and lived each day with an energy and passion that was evident to everyone he met.
Therefore there was shock when it was learned that Mícheál died suddenly on the morning of Monday 16 April in his home. He was 71 years of age. The esteem in which he was held was clear by the hundreds of people who attended the wake house and the massive crowds that converged at the Funeral Mass and burial. Led by a lone piper who played his beloved 'Homes of Donegal', Mícheál was laid to rest in the presence of hundreds who knew that an icon of the parish of Gaoth Dobhair had passed on.
A loyal (and often vocal) supporter of the Gaoth Dobhair GAA Club, Mícheál played on the County Championship-winning team in 1961. It would be 2002 before that feat was to be repeated and at that time it was his son, Mícheál Óg, who captained the side. Gaoth Dobhair won the Donegal County Championship once again in 2006 and on that occasion Mícheál Óg was part of the team's management.
Almost always accompanied by his wife Gráinne, whom he cherished, Mícheál was immensely proud of all his children: Míchéal Óg, Catherine, Nicky, Fionnula, Pearse and Tara, and he loved nothing more than spending time with any of his 13 grandchildren. He was a family man first and foremost and was pleased that all his children had settled in their home community.
One of the proudest moments for the Doherty family came in November 2010 when Pearse made history by his election to the Dáil following a by-election victory. Mícheál's pride in his son that evening and always was matched only by the shared pride Pearse and his siblings had in their dad who raised them with Gráinne through many tough economic times but who had taught them the important values in life.
For many residents of Gaoth Dobhair and for those of us who like to visit there regularly, that beautiful parish will never be the same again. For his words of wisdom, for his humour and for the 'mighty craic' that followed Mícheál Doherty everywhere he went, his passing will be keenly felt by many.
Republicans everywhere extend our deepest condolences to Gráinne, to Pearse and to the entire Doherty family on the loss of a great man.
BY MATT CARTHY