30 April 2012 Edition
Death Row story
Movie review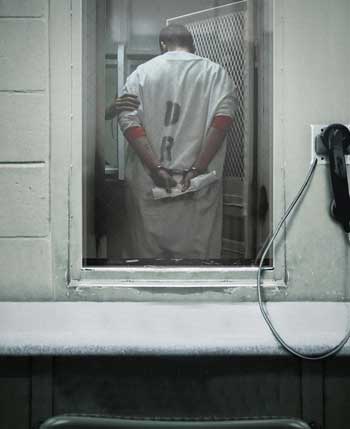 Into the Abyss (A Tale of Death, A Tale of Life)
Director: Werner Herzog
Cast: Jason Burkett, Michael Perry, Werner Herzog, Jeremy Richardson
107mins (15A)
Review by Jacqueline Kaye
ONE of the peculiarities of the American justice system is the use of capital punishment in 16 states, most enthusiastically in Texas. Herzog interviewed a number of prisoners on Death Row. The case of Mike Perry and Jason Burkett is the basis of this film. (Other interviews have been shown by Channel 4 under the title Death Penalty.)
Eleven years ago, two 18-year-olds, both with catastrophic personal backgrounds, killed three people in order to steal a car in Montgomery County, Texas. Seventy-two hours later, they were arrested. After ten years on Death Row, Perry was killed by lethal injection at the Death House in Huntsville. Burkett, who pleaded guilty, is serving a 50-year minimum sentence. Herzog, always off-camera, elicits moving testimony from perpetrators, victims' families and police and prison staff. He chooses a hard case. With no doubt about the guilt of both men, the film asks what is the purpose of the ritual of death during which Mike Perry took nine minutes to die.
The most memorable moments in this subtle and scrupulous production comes in interviews with prison staff.  The Death House chaplain, who holds the ankle of prisoners on the gurney until he is sure they are dead, cries as he recalls how he managed to avoid running over a squirrel in his golf cart. Fred Allen, the Death House captain, saw more than 120 executions and, at the height of the Texan capital punishment frenzy in the 1990s, attended two deaths a week. After that of Karla Faye, the first woman to be executed in Texas since 1863, Allen's body gave up on him. He refused to return to work at the risk of losing his pension. Fred Allen's eyes are hard to look into: they bear the traces of the 120 times he himself looked into the eyes of a fellow human being as they closed theirs in death.
JACQUELINE KAYE was one of the organisers of the Prisoners Aid Committee, which campaigned for Irish republican prisoners in England in the 1970s and 1980s. She has written extensively on prison issues. As a university lecturer she specialised in the United States and has written extensively on the a wide variety of modern cultural issues.