30 April 2012 Edition
Julia Carney
It's Fine Gael's way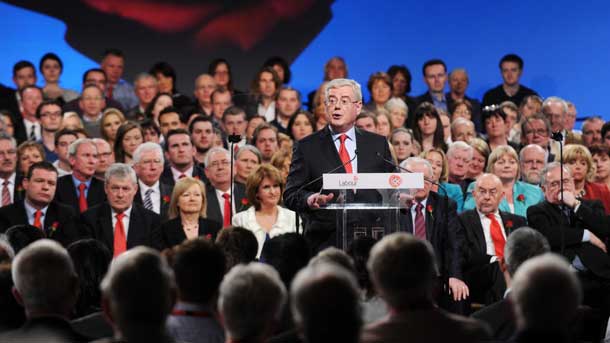 And to those who say we sold out, I have a simple question for you . . .
DELEGATES, members, unthinking Labour lobby fodder . . . I would like to welcome you to our Annual Conference here in Galway where we celebrate 100 years of a party founded by James Connolly and Jim Larkin to achieve a socialist republic.
I have no doubt if they were here today they would have a lot to say to us.
As they gaze up at me from their seats somewhere down the back, they would be stunned by the rows and rows of elected Labour Party representatives gathered here behind me working tirelessly every day to ensure Fine Gael stays in government.
Little could they have known, all those years ago, that after a century of effort we have climbed this far. Picture their faces, fellow delegates, the tears running gently down their cheeks as they see all that we have done and accomplished in their name.
For they know our struggle has not been without hardship.
We knew when we made the momentous decision to enter government that our road would not be easy. It would be hard, possibly tolled, and certainly hemmed in by lots of people with placards.
But we were determined to persist, to put aside the cheap slogan dreamed up by someone long since airbrushed from our party's history of it being "Labour's way or Frankfurt's way."
Labour in government has ensured that it has been Fine Gael's way. And if this is basically indistinguishable from Frankfurt's way, then this does not mean that we have failed. It simply means that we have succeeded in a different way, proof again of Labour's ability to innovate, to imagine and to create.
But being in government is not just about giving Fine Gael the space to do what is necessary and ensuring pension bumps for our ministers. Labour too has a role to play. Enda himself told me once (when we ran into each other in the men's room) that they are very important jobs. Very, very important.
Social Protection Minister Joan Burton has been fearless in her chasing down of single mothers with young children, one of the most powerful economic blocs in Irish society. Other governments have feared to challenge them, knowing of their immense political influence and media dominance, but Joan is implacable in her pursuit of this most parasitic of vested interests.
Education Minister Ruairí Quinn is as determined as ever in ensuring the millions wasted every year in educating children in disadvantaged and working-class communities is recovered. Only by doing this can we ensure that Fine Gael is able to keep its pledge to maintain low tax rates for those patriotic and selfless men and women earning six-figure salaries.
There are those outside this venue who disagree with some of the decisions Fine Gael has taken and that we have agreed with after being told what they are. That, of course, is their right. Labour has always supported the right of people to peacefully protest when Fine Gael has said that we might. But there is a difference between peaceful protests and protests that disrupt our carefully choreographed conference.
Such protests are nothing less than a bitter assault on democracy by people who hate freedom. In the days of my old political mentor back in the Workers' Party, Kim Il-Sung, it would have been the gulag for the lot of them.
Let me send a clear message to these so-called protesters: This Government will not be intimidated; this party will not be intimidated; and I will not be intimidated . . .
(We might be told what to do, by Enda or by Phil, or by this guy Kevin they have working for them who's generally the one who sends the texts, but there is a world of difference between that and intimidation.)
And to those who say we sold out, I have a simple question for you: If Labour has sold out, then what have we gained? The very notion of selling something suggests we must have got something in return but we all know that we have got nothing, absolutely nothing at all!
That, my friends, is the answer to those who make such baseless accusations against our party.
Fellow delegates, go forth from this convention centre with your heads held high and your eyes darting back and forth in case there are any protesters about. Be proud of what Fine Gael has accomplished for they could not have done it without you. Be proud of what you have done with the legacy of James Connolly and Jim Larkin. So very proud.
And, above all, remember that the Irish people know what we have done, and what we plan to do, and in the fullness of time, they will have their opportunity to reward us.