30 April 2012 Edition
From West Belfast to the West Bank
MARY KATE AND MAIREAD QUINN TO TEACH AND LEARN FROM PALESTINIANS IN ISRAEL'S OCCUPIED TERRITORIES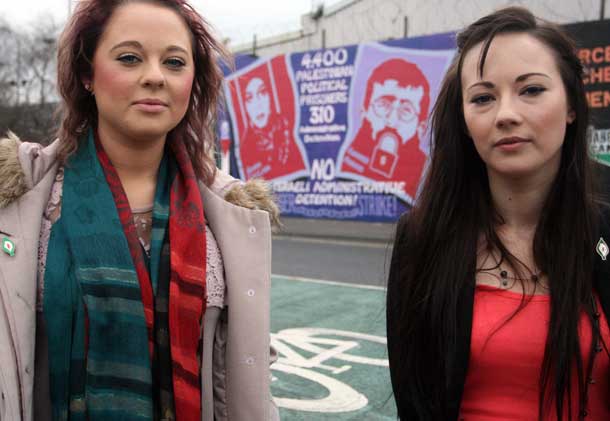 'You could be teaching a class full of kids one day and come in the next day and have no pupils as the Israelis have arrested them all!'
TWO YOUNG republican activists are to join a group of volunteers next month teaching Palestinian children in the Occupied West Bank.
Sisters Mary Kate and Mairead Quinn, both active in Sinn Féin in west Belfast, are enthusiastic about their trip to the Middle East and are keen to experience life in the West Bank under Israeli military rule.
The young women are the first Irish citizens to go to teach in the Palestinian camps with the English-based charity UNIPAL (Universities Trust for Educational Exchange with Palestinians).
"Normally it is English, Scots or Welsh people who go; we are the first Irish to join and we have got a very welcoming response from the rest of the group," the sisters told An Phoblacht.
"They are really interested in hearing about Ireland and learning about the Peace Process," Mairead said. Mary Kate added:
"We also talked to them about internment, the Ballymurphy Massacre and other events in Ireland that many of them haven't heard about."
Mary Kate, a Sinn Féin Assembly candidate in last year's election, said she found out about the work of UNIPAL on the Internet one day. She and Mairead, a history and politics student, immediately made contact and enlisted for the trip to the West Bank.
"At first we thought we would be sent to Gaza but with the situation the way it is at the minute — with Israeli air attacks and the consequent dangers — Gaza was ruled out. So I am being sent to Jalazone, near Ramallah, and Mairead is heading to Aroub, near Jerusalem.
"We have been told that both places suffer very badly from the activities of the Israeli Army on the one hand and settlers on the other.
"We have been told that you could be teaching a class full of kids one day and come in the next day and have no pupils as the Israelis have arrested them all!"
Mairead said equipment and materials are scarce so she and Mary Kate are determined to do more than teach English.
"We want to interact with the children through dance and drama and Mary Kate plays the tin whistle so she is bringing some whistles with her to teach music," Mairead said.
Mary Kate said: "For us, it is more than teaching: it is about showing solidarity."
She went on to talk about the recent hunger strikes involving Palestinian prisoners imprisoned by Israel under 'administrative detention', Khader Adnan and Hanna Shalabi.
"We look on the Israeli policy of administrative detention as internment. People are arrested and imprisoned without due process. It's an injustice and we should oppose it in the way we opposed internment.
"Also, as members of Sinn Féin we want to show the Palestinian people that we are shoulder to shoulder with them."
Both women are keen to meet with Palestinian women's groups and NGOs to see as broad a section of Palestinian society as possible.
"We are aware," said Mary Kate, "of the restrictions imposed by the Israelis but we want to find out as much as we can on the ground, about day-to-day life, while we are there."
Mary Kate and Mairead leave for Tel Aviv in the middle of June to return at the end of July. As it they need £1,000 to pay for the trip they are appealing for donations. Any money raised that exceeds the costs of the trip will be used to buy educational materials for Palestinian children. They can be contacted through party offices in Belfast.
UNIPAL: Universities' Trust for Educational Exchange with Palestinians
 DURING the Arab-Israeli War of 1948, over three-quarters of a million Palestinians fled or were driven from their homes in terror. They settled in refugee camps in Lebanon, the Gaza Strip, the West Bank, Jordan and Syria.
Despite repeated UN resolutions appealing to Israel to allow the refugees to return to their homes, they have consistently been refused permission to do so.
In 1950, the United Nations Relief and Works Agency for Palestinian Refugees (UNRWA) was established to organise the camps and meet the basic needs of the refugees. The scale of the task grew in 1967 when the Israeli occupation of the West Bank and Gaza Strip created a second wave of refugees.
Today, there are 3.25 million refugees registered with UNRWA, of whom 1.07 million live in 59 refugee camps characterised by chronic overcrowding and poverty.
As refugees they have also suffered from extreme denial of human, civil and political rights, and often find themselves condemned to a future without hope and international concern. Almost a decade after the signing of the 1993 Oslo Peace Accord, the basic living conditions of the Palestinians have changed very little.
UNIPAL (Universities' Trust for Educational Exchange with Palestinians) facilitates a two-way process of education - providing English-language teaching in Palestinian refugee camps in the West Bank, Gaza and Lebanon and introducing students to a knowledge and understanding of the situation and daily lives of refugees.
Whether they live in the Occupied Territories or neighbouring Arab countries, Palestinian refugees are faced with tremendous obstacles in breaking out of the cycle of deprivation and despair. Finding employment and being able to support themselves and their families is their greatest ambition and depends upon adequate educational provision.
 MEETING HUNGER STRIKER HANA SHALABI, EX-PRISONERS AND EDUCATION CHIEFS
Derry Friends of Palestine solidarity visit to Gaza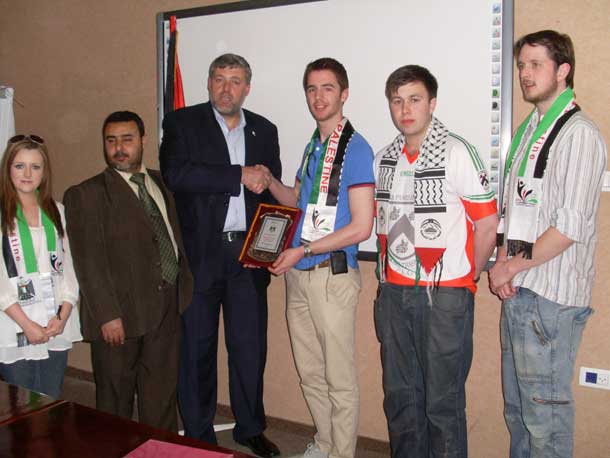 • Ahmed Ayesh Alnajjar, the Director of International and Public Relations of Ministry of Education, presents Irish students with a plaque
DERRY FRIENDS OF PALESTINE delegates have just returned from a highly successful 'Freedom and Friendship Delegation to Gaza', promising to redouble their efforts "to build links with our sister city of Khan Younis and to support the people of Gaza".
Delegates from Irish Friends of Palestine were Gerry Mac Lochlainn and Charlie McMenamin (former political prisoners), Ruairí McLaughlin, Mickey McCrossan,  Alanna Campbell and Cathal Óg Donnelly (students and members of Sinn Féin Republican Youth), Liam McConway, and organiser Sinead Mac Lochlainn.
The delegation was hosted by Mayor Mohammed All Farra and the Municipality of Khan Younis "who offered us incredible hospitality given the current conditions in Gaza which remains under a brutal blockade by Israel", Gerry Mac Lochlainn said.
The main purpose of the delegation was to build educational links with university students and the group was received by the heads of some of the main universities in Gaza and the Ministry of Education's Ahmed Ayesh Alnajjar, Director of International and Public Relations of Ministry of Education and Higher Education on behalf of Dr Osama Elmozini the Minister of Education and Higher Education. The Sinn Fein Youth Members were also presented with a plaque from Minister Elmozini for Minister for Education John O'Dowd.
The Irish delegation also met with representatives of the main political parties in Palestine and visited refugee camps.
They met with former prisoners, families of current prisoners and attended a major prisoners' conference where one of the keynote speakers was Gerry Mac Lochlainn, himself a former political prisoner.
Gerry told An Phoblacht:
"We were particularly honoured to be invited to meet with Hana Shalabi, a victim of Israeli administrative detention who endured 44 days on hunger strike before Israel succumbed to international pressure and released her to exile in Gaza.
"We visited her in Al Quds Hospital where she accepted an Easter Lily and expressed her pride at accepting this symbol of Irish martyrs. She asked us to work for the release of other Palestinian political prisoners."
Tragedy struck one Palestinian family during the delegation's visit, Gerry said sadly.
"We learned that three young children had been burned to death during the night while attempting to read and study by candlelight. The candle fell over and they were trapped in their bedroom.
"God help them, all that was left of the three children were the scorched books on the floor which they had been studying from. Yet more tiny victims of the collective punishment siege as Israel only allows six hours of electricity each day. These few hours can come at any time, even in the middle of the night when the population is asleep, so many students rely on dangerous burning candles to study."
Even during daylight, the Israeli presence is oppressive and menacing.
Gerry Mac Lochlainn recalled for An Phoblacht some of what Palestinian families have to endure in what Gerry Adams has described as "the largest open-air prison in the world":
"When the student delegates joined local families in a soccer game with an idyllic view of the Mediterranean Sea in the background, even here the realities of Israeli occupation were evident with armed Israeli drones and F-16 fighter planes flying overhead," Gerry Mac Lochlainn said.
"During our stay the F-16s were our alarm clocks and the early-morning call as they criss-crossed Gaza skies, terrorising the population. They also dropped leaflets warning that anyone who went to within 300metres of the border would be shot. Welcome to Palestine."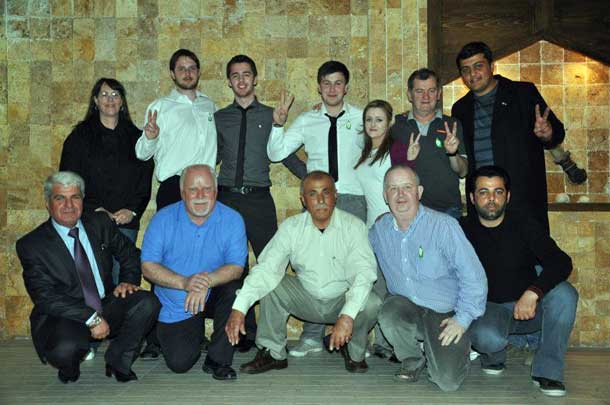 • Irish delegation meeting with Fatah representatives