30 April 2012 Edition
Seven-point plan for Irish unity
Adams outlines key strategic goals for Irish reunification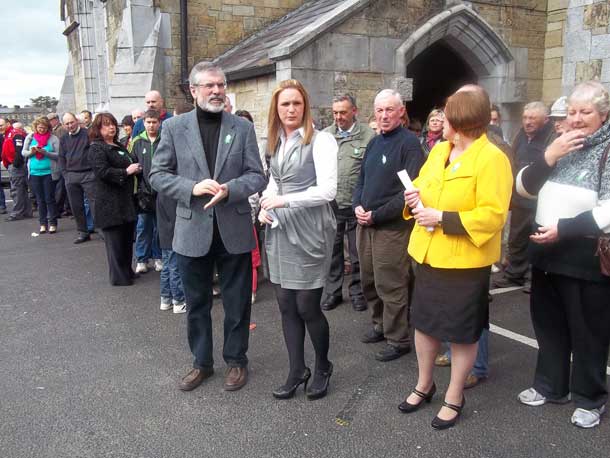 GERRY ADAMS has outlined a seven-point plan for Irish reunification.
Speaking ahead of an Easter Rising commemoration in Bandon, County Cork, the Sinn Féin leader and TD for the border county of Louth said that a united Ireland makes economic sense, would create prosperity, and would deliver a better standard of living for future generations.
"Ireland, North and South, is changing. We are an island people in transition. The North is particular has been transformed in recent years," he said.
"In this state, more and more people realise that we do not have a real republic. Uniting Ireland makes economic sense. So the people of Ireland need to plan responsibly for the future direction of politics on the island and to do that we need a fully inclusive, rational debate."
Adams said it is up to republicans and nationalists to put forward arguments as to how reunification will benefit all sections of the Irish people.
"Likewise, it is up to unionism to make the case for the Union," he added. "That is good healthy debate. That is good for democracy."
The seven-point plan
 Popularise reunification as viable, achievable and in the best interests of all and to build consensus for this.
Encourage all non-unionist political parties and sections of civic society to become persuaders and actors for reunification.
Convince a section of unionist opinion that their identity, self-interest and quality of life will be best served, secured and guaranteed in a united Ireland.
Challenge those who would seek to maintain the status quo.
Ensure the Irish Government acts on the Constitutional imperative of reunification.
Encourage the British Government to become persuaders for reunification.
Build on international political and practical support for reunification, drawing in particular on the support and influence of the Diaspora.