30 April 2012 Edition
Probes' bias raised by findings of University of Ulster lecturer
RUC ALLOWED BRITISH MILITARY POLICE TO RUN 'INVESTIGATIONS' INTO CONTROVERSIAL KILLINGS BY BRITISH SOLDIERS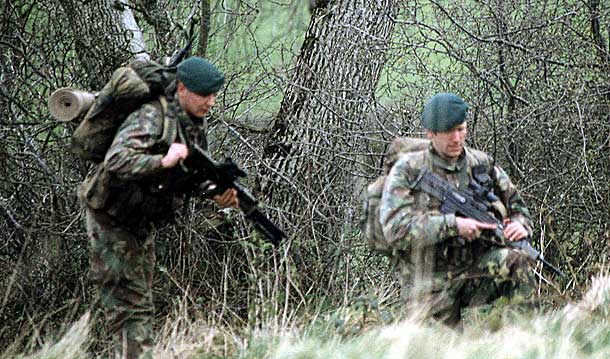 There was an agreement between the RUC Chief Constable and the British Army's GOC that British soldiers involved in fatal shootings would be questioned by the British Army's own Special Investigations Branch of the Royal Military Police and not the RUC
THE independence of the Historical Enquiries Team, the body set up by the PSNI to re-examine all deaths attributable to the conflict in the Six Counties between 1968 and 1998, has been called into question in a report by a senior academic at the University of Ulster.
Dr Patricia Lundy looked into investigations into as many as 150 killings by the British Army between 1970 and 1973.
In response to her findings, PSNI Chief Constable Matt Baggott told the North's Policing Board on Thursday 5 April that he is calling in the London-based police inspectorate (HMIC) to conduct a review of the Historical Enquiries Team (HET).
Between 1970 and September 1973, an agreement existed between the RUC Chief Constable and the British Army's GOC (General Officer Commanding — the military's most senior commander) which specified that British soldiers involved in fatal shootings would be questioned by the British Army's own Special Investigations Branch of the Royal Military Police, leaving the RUC to deal with civilian witnesses.
This arrangement removed what little chance existed of an independent investigation and the scheme was judicially reviewed in 2003 by the North's top judge, Brian Kerr. Examining the case of Derry woman Kathleen Thompson, Kerr concluded that the investigation into her death was "not effective".
According to Dr Lundy's report, the Kerr judgment "raises concerns about the appropriateness of more than 150 Royal Military Police investigations" conducted under what was known as the "'tea and sandwiches agreement" between the RUC and British Army.
Dr Lundy asserts that the HET's "pragmatic approach" (whereby British soldiers have been interviewed informally as witnesses rather than cross-examined as suspects) reinforces the original and flawed Royal Military Police investigation.
These interviews are, she maintains, "a repetition of the original argument advanced in the RMP interview" and offers a soldier "an opportunity to bolster his original statement by plugging any gaps in his defence".
Calling on the Criminal Justice Inspection body in the North to carry out an in-depth investigation, Dr Lundy says:
"The perception of independence as well as its reality is critical as it impacts directly on the confidence of those who engage with the HET."
Any investigation, she insists, must have "full access to HET policies and procedures".