30 April 2012 Edition
A sporting chance
PEADAR WHELAN MEETS: CARÁL NÍ CHUILIN, ASSEMBLY MINISTER FOR CULTURE, ARTS AND LEISURE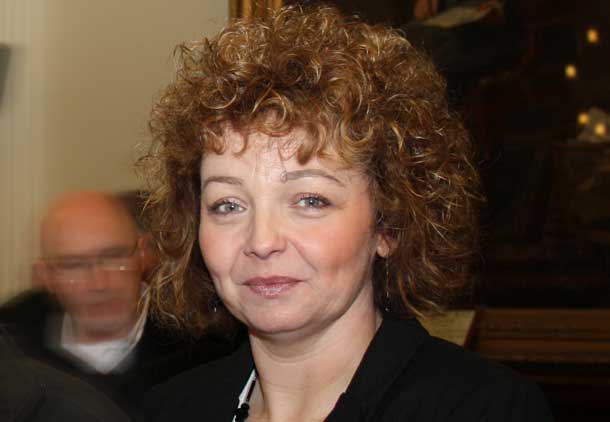 'This investment in stadiums is also about giving a boost to communities — especially the unionist Village area in the case of Windsor Park and Andersonstown in the case of Casement Park'
IT IS CLEAR from the response she's getting from people across the Six Counties that the Minister for Culture, Arts and Leisure Carál Ní Chuilin MLA is having a positive effect.
Her programmes for sports development, funding for soccer, rugby and Gaelic games have been viewed as a case of someone in government 'putting their money were their mouth is' at a time when the North's economy and communities need a boost.
Her initiative to promote the Irish language, Líofa 2015, has caught the imagination of language enthusiasts across the North and is drawing recruits from all walks of life: from senior members of the PSNI, unionist parties and well-known media and GAA personalities.
It is against this backdrop that I visited her in her north Belfast constituency office.
"After all, even ministers still have constituency work that needs done," she laughed.
Carál began by outlining her vision for a department "that is the smallest, has the smallest budget, but has the biggest reach when it comes to interacting with people".
"The job of my department as I see it is to reach out to people from socially disadvantaged areas, people who have been excluded and who are feeling the brunt of the economic down-turn.
"I am working with DUP Health Minister Edwin Poots in exploring ways of linking health initiatives with sports programmes as a way of dealing with the high levels of suicide among young people.
"And I'm working with the DUP's Arlene Foster at the Department of Enterprise, Trade and Industry (DETI) on ways to ensure that people in deprived areas benefit from the increase in tourism.
"For me and for Sinn Féin this is about ensuring that organisations fulfil their statutory social obligations to the people."
Carál went on to explain that the massive investment her department is making to improve Belfast's three main sports stadia — Casement Park (Gaelic games), Windsor Park (soccer) and Ravenhill (rugby) — would bring much-needed improvements to the grounds but would ensure that supporters would be getting stadia and facilities they would be proud of.
"This investment is also about giving a boost to communities — especially the unionist Village area in the case of Windsor Park and Andersonstown in the case of Casement Park — so that they can benefit from the economic spin-off.
"We want these stadia to be family and community friendly."
The issue of soccer in the North and the nationalist relationship with the Irish Football Association has been problematic, to say the least, but Carál's decision to attend a match at Windsor Park was "well received", she said.
"I have always said, as have all Sinn Féin ministers, that we are elected representatives and ministers for everybody, not just the people who vote for us.
"So I was glad to go to Windsor Park and I was very well received. Of course, I would like to see soccer organised on an all-Ireland basis, as is rugby and of course the GAA, but that's a matter of time."
Another of Carál's great sporting loves is boxing and she had a lot of praise for the coaches and trainers who have put so much time and energy into working with young people to bring them to a peak of fitness and ability. She fully endorsed the recent Boxing Strategy advanced by Belfast City Council. The initiative (driven by Sinn Féin) is about investing in the 26 amateur boxing clubs that exist in the city to ensure their facilities are modernised.
"The approach being adopted by Belfast City Council is about putting resources into amateur boxing to ensure young people in deprived areas can train in the best facilities and progress."
Carál was talking to An Phoblacht just days after her announcement that the Cuban boxing team have chosen Belfast as their base to prepare for the 2012 Olympics in London. Clearly delighted at the prospect of meeting the team, Carál said:
"I am looking forward to welcoming these athletes here as they prepare for the Olympics. This is the most successful nation in Olympic boxing: they have won 40 gold medals since 1972 and we hope they will add to that total in 2012." But not at the expense of Ireland, she hoped with a grin. "Of course, Irish boxers have a great track record at major games as well so, needless to say, I am four-square behind them."
The Líofa Irish-language promotion (launched in September 2011) is, in the words of Irish-language enthusiast Gearóid Ó Cairrealláin, "as simple as it is brilliant — why didn't somebody think of it before"? Carál did, and she has been a tireless and enthusiastic advocate of Líofa 2012.
She is excited that her original target of 1,000 people fluent in Irish by 2015 was reached by the end of last year. "We want another 1,000, then another 1,000 after that," she declared.
"I see the Líofa project as a platform for promoting Irish. At the September launch we had PSNI Assistant Chief Constable Judith Gillespie, John McCallister and Basil McCrea from the Ulster Unionist Party, and Ian Crozier of the DUP.
"Others from the media and sporting worlds have signed up so I am really delighted with the progress so far."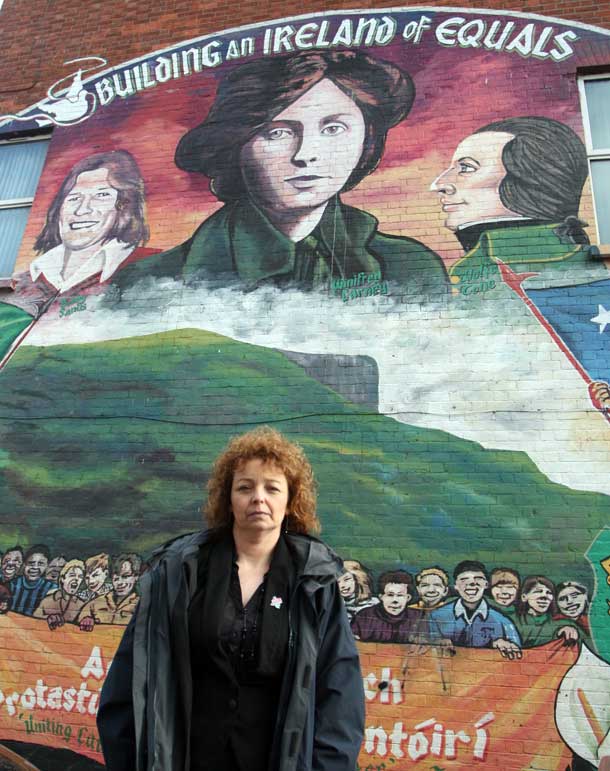 She said that, ultimately, Sinn Féin's objective is to see legislation brought forward for an Irish Language Act "so that the rights of Irish speakers are established in law and the language given equal status with English or other languages for that matter".
As for Ulster-Scots, the Sinn Féin minister disclosed that she has had discussions with the the Ulster-Scots Agency (Boord o Ulster-Scotch) about ideas to promote Ulster-Scots heritage.
"There is a rich Ulster-Scots heritage with music, poetry and culture that we need to give mutual respect to so we are working with the Ulster-Scots Agency to promote that heritage," Carál said.
The minister also acknowledged the importance of the next four years for both unionists and nationalists with the significant anniversaries in our history that are fast approaching.
At the moment, unionists are focused on the centenary of the signing of the Ulster Covenant in 1912.
"As republicans, we acknowledge the importance of this event but then we have the Dublin Lock-Out in 1913, and the Easter Rising and the First World War and the Somme in 1916. So we must look at these events as a series of inter-locked historical events.
"Sinn Féin will show leadership and maturity in all of this and use the anniversaries as a way of looking at our past to use it as a way to build the future."
Drawing our interview to a close as she had a meeting scheduled with her constituency team waiting patiently next-door in north Belfast, Carál reiterated her vision, emphasising that her aim is to reach out to people and fulfil Sinn Féin's commitments to equality. It's a job with many challenges but, "I have the best job in the Executive," she smiled.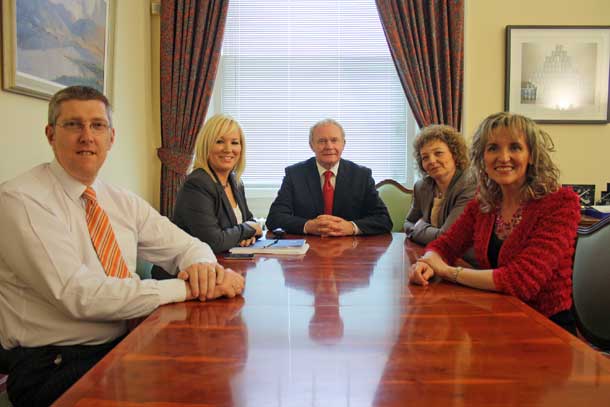 Sinn Féin ministers: John O'Dowd (Minister for Education), Michelle O'Neill (Minister for Agriculture and Rural Development), Martin McGuinness (deputy First Minister), Carál Ní Chuilin (Minister for Culture, Arts and Leisure), and Martina Anderson (Junior Minister OFMdFM)