30 April 2012 Edition
I want Rangers to survive
CELTIC SUPPORTER PAUL HOGAN'S SHOCKING CONFESSION . . .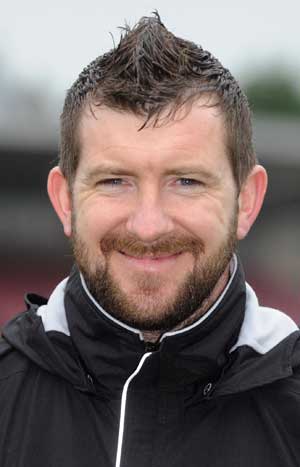 I'm sure Neil Lennon would prefer to win a league without the lame excuse of a Rangers points deduction more or less handing the trophy to him on a plate
CELTIC SUPPORTERS (and there are plenty of them on this side of the Irish Sea despite our obsession with English soccer) are fixated by the horror story engulfing Rangers Football Club which has practically gifted Neil Lennon and The Hoops the 2011/12 Scottish Premier League title.
Messages and comments are being plastered on social network sites. Too many of them are just derogatory and sectarian. They serve no purpose at all for genuine fans and do the posters no credit. They only serve to exacerbate a level of hatred that has become the norm for some sections of the Old Firm following despite huge efforts from both clubs to eliminate such things.
Realistically, it's the English Premier League that is the focus for most supporters in Ireland but the first result we tend to always look out for away from Liverpool, Manchester United, Arsenal, Chelsea and Manchester City is Celtic in what has become an all too predictable annual slog with Rangers for the showcase pieces of silverware.
The Scottish Premier League and Scottish League football in general doesn't have huge global appeal of England but the Old Firm clash is right up there with the likes of Barcelona v Real Madrid, AC Milan v Inter Milan and the Liverpool v Manchester United games across the water.
The financial demise of Rangers FC is of no benefit to Celtic in the short-term or indeed the long-term. Football ideologists (and I would humbly count myself as one of those) would love to see a competitive Rangers return to action as soon as possible.
Dundee United and Kilmarnock respectively showcased rare chinks in the armour of both Glasgow sides recently with surprise victories. And the Old Firm sides haven't made it to the Scottish Cup Final, which features the Edinburgh clubs of Hearts and Hibernian (now managed by Pat Fenlon, previously the gaffer at Bohemians, Derry City and Shelbourne). That said, the long-term diagnosis for Scottish League football appears to be a bleak one.
Speculation that Celtic (and maybe Rangers) might join the English league seemed to have been just that and shot down by the game's authorities.
The rest of the Premier League clubs in Scotland need the Old Firm and would struggle to function without these high-profile, money-making games on their calendar — but does it really serve Scottish football any benefit to have a league dominated by two clubs?
You could make the argument that Spain's La Liga is dominated by two clubs, England has a core of about six who realistically are the only ones in the running for the big prizes, and you could argue it's a similar scenario in Italy.
As a Celtic supporter, it gives me no satisfaction to see the turmoil at Ibrox. I'm sure Neil Lennon is thrilled at how the season has turned out, considering the turbulent period he had in charge at the back-end of last season and early this season.
He's turned it around magnificently but I'm sure Lennon would prefer to win a league without the lame excuse of a Rangers points deduction more or less handing the trophy to him on a plate.
It's a worrying period for Scottish football and, despite our fanaticism and allegiance to Celtic and the coronation as champions, it still makes it more appealing to have a competitive Rangers breathing down our necks or vice versa.
The carry-on behind the scenes at Rangers has been a disgrace. It must be dealt with firmly by football's governing bodies to send a message out to any top club who thinks they're so big they can get away without meeting their debts to the taxpayer, other clubs and people who do business with them and, most of all, football fans.
I hope Rangers survive and they come back next season fit for purpose — to get beaten by Celtic for the title again.