27 May 2010 Edition
HSE nursing homes must be improved not closed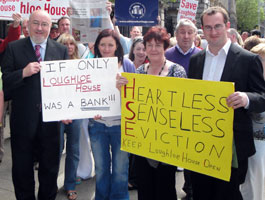 The Health Service Executive has been accused of falsely using a HIQA Report to close Loughloe Nursing Home in Athlone as part of its public healthcare cutbacks, even though the report does not recommend closure. Sinn Féin Health spokesperson Caoimhghín Ó Caoláin said the HIQA Report on Loughloe House in Athlone raises major concerns and is an indictment of the running of Loughloe House by the Health Service Executive.
"It is totally unacceptable that a home run by the HSE should be found to have inadequate protection of residents' welfare, poor leadership and governance, inadequate staffing levels and deficient fire safety," he said. He added however, that all of these issues can and must be addressed.
"The HIQA Report does not recommend closure of Loughloe House yet it was seized upon in draft form by the HSE on 5 May and used as a pretext to close the home. This has caused huge distress to residents and relatives. I understand that the HSE has made no effort whatsoever even to cost the significant improvements to Loughloe House recommended by HIQA."
Ó Caoiláin said that clearly this proposed closure is part of the HSE's regime of cutbacks to public health facilities, "cutbacks for which Health Minister Harney and her Fianna Fáil/Green Government colleagues are responsible."     
"The Minister for Health & Children should now require the HSE to implement HIQA's recommendations on Loughloe House, ensuring proper care and security for current and future residents," he said. "If this public health facility is closed it will set a precedent for the HSE to close other such homes, furthering the agenda of heartless health cuts and privatisation.