27 May 2010 Edition
Extent of crisis in child protection exposed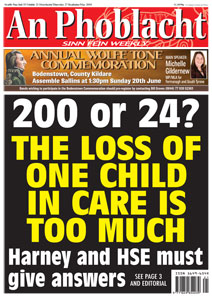 By Mícheál Mac Donncha

The full extent of the crisis in child protection in the 26 Counties was exposed with two startling admissions this week. The Health Service Executive (HSE) admitted that they are still unaware of the number of children who have died in State care over the past five years and Children's Minister Barry Andrews admitted that the HSE is refusing to hand over files on these children to the investigation team that he established. The government says it will now rush through legislation to allow the HSE to hand over its files to the government inquiry.
The Assistant Director of Children and Family Services in the HSE, Phil Garland, stated on RTÉ's 'Morning Ireland' on Monday that the HSE does not yet know the numbers of children who have died in their care, despite the fact that they have been searching for this information since the start of the year. The HSE had already offered the Minister of State for Children Barry Andrews and the public the estimate of 23 children who died, the murder of Daniel McAnaspie bringing that figure to 24.
There was speculation at the weekend that the figure may be far higher than that, up to 200.
Sinn Féin Health & Children spokesperson Caoimhghín Ó Caoláin TD said disclosure from the HSE on the deaths of all these children, including details of the services provided to them, or which the HSE failed to provide, is essential:
"The recent Children's Ombudsman Report concluded that the HSE, from its establishment in 2005 until 2009, made insufficient efforts to drive forward implementation of the 'Children First', child protection guidelines. Poor administration was uncovered across the HSE. Clearly this affects not only the process of identifying and protecting children at risk but also the system of care provision which has been repeatedly exposed as totally inadequate."
Then on Monday evening the HSE file on the late Daniel McAnaspie was released to RTÉ, apparently from Garda sources. Interviewed on RTÉ News, Minister of State Andrews admitted that the files on children's deaths were being withheld by the HSE from the special investigation team the Minister had established earlier this year. The HSE is refusing to share the files on legal grounds.
Caoimhghín Ó Caoláin described the situation "a crisis of leadership" and called on the Taoiseach Brian Cowen to intervene directly:
"The litany of neglect in the Daniel McAnaspie case is truly shocking and lessons must be learned and implemented without delay.
"While the file could be made public in this way, Minister of State for Children, Barry Andrews, has admitted that the HSE is refusing to release files on the deaths of children in their care to the Minister's investigation team. This is intolerable and the files should be released immediately to what is a confidential investigation.

"There is clearly a crisis of leadership and management at the highest level in child protection in this State when an investigation established by a Minister can be frustrated in this way by a State body supposedly under his authority. The senior Minister for Health & Children, Mary Harney, has remained silent on this scandal.
"The Taoiseach needs to re-establish ministerial authority and democratic accountability for the delivery of public health and social services."
These developments came in the wake of the Fianna Fáil/Green Government voting down last week's joint Sinn Féin/Labour Dáil motion calling for the referendum on children's rights to go ahead in 2010.
Speaking in the Dáil debate, Sinn Féin Louth TD Arthur Morgan pointed out that the Tánaiste Mary Coughlan had stated that it was her personal view that the referendum on children's rights was very important and should be a stand-alone referendum, not held on the same day as by-elections. Morgan said:
 "I welcome that statement and I hope it is more than a personal view, that it is shared by her Government colleagues. We will not press for the by-elections to be held on the same day as the referendum. The referendum should have a clear run. All the issues need to be clearly explained and properly debated. There is no good reason why that should not happen this year."
Highlighting the situation in North Kerry, Martin Ferris TD said:
"In my constituency I receive regular representations from the families of children, and from those charged with looking after them, concerning the impact of the current austerity measures on child care and educational facilities. These range from the ongoing unacceptable conditions that children in schools such as Scoil Eoin in Tralee and Blennerville national school have to endure, in buildings that are overcrowded, poorly kept and in urgent need of repair.
"What kind of state allows children with autism in my county to go undiagnosed for up to a year because of a shortfall of staff? What kind of government allows children with psychiatric problems to go as long as four years before being assessed? Does anyone on the Government benches find it acceptable that children in Kerry with serious mental health problems are put on regular hospital wards because there is nowhere else for them to go?"
Concluding the debate for Sinn Féin, Aengus Ó Snodaigh made a final appeal to the Government:
"The Minister of State, Deputy Andrews, yesterday and the Taoiseach again today tried to excuse the lack of a firm Government commitment to holding a referendum. Their excuse was that the report of the joint committee was being examined by 15 Departments and the Attorney General. It is another delay. Deputy Ó Caoláin asked the Taoiseach when those Departments and the Attorney General received the report. He did not receive a clear answer but if they received it in February when it was published, they should have had adequate time to examine it. The time is up for the Government to examine the reports. It knew what was in them and it was part of the consultation and committee. The referendum needs to be held now."
Caoimhghín Ó Caoláin, Arthur Morgan, Martin Ferris and Aengus Ó Snodaigh