27 May 2010 Edition
Bloody Sunday report for June?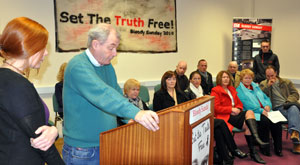 Speculation is mounting that the Bloody Sunday Inquiry report will be published in June. The relatives of those killed and injured have been engaged in meetings with NIO Secretary Owen Paterson is recent weeks and have been assured of a speedy publication date. This was echoed by British Prime Minister David Cameron when he met with Martin McGuinness last week.
Arrangements are being finalised to let the families access the report before it is put before the British parliament.
Lord Saville opened the investigation at the Guildhall in 1998 and heard from over 900 witnesses, including 245 soldiers who gave evidence in London. The inquiry finished its hearings in 2004.