20 May 2010 Edition
Campaign to keep Athlone nursing home open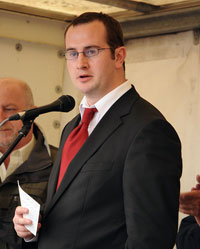 BY COUNCILLOR PAUL HOGAN
THERE is widespread disgust and anger at the proposed closure of a nursing home by the Health Service Executive in Athlone.
The plan to shut Loughloe House, which was built in 1979, has come as a huge shock to the residents and their families with some describing the move as a modern-day eviction.
Last Thursday week, the HSE invited residents, their relatives and staff to a meeting convened at Loughloe House. At that meeting, Health Manager for Longford and Westmeath Joe Ruane informed them that Loughloe House was to close because the nursing home did not meet the standards of the Health Information and Quality Authority (HIQA). He also informed them that the 26 residents would be relocated to other facilities in Offaly, Roscommon, Longford and Westmeath over a six-week to eight-week timeframe. Relocating elderly people, some with dementia and Alzheimer's, from their familiar surroundings is totally wrong.
The next day I was informed from a source that the HIQA report, which will not be published for another three to four weeks, does not recommend closure of the facility. The HSE are using the HIQA report to pursue their and the Government's agendas of privatisation. Instead of investing money to upgrade this facility, the HSE chose to attack the most vulnerable in society by evicting them from their home in their twilight years.
The Minister for Health visited Athlone just two days after the announcement by the HSE. Her visit was kept very low-key, although she stayed overnight. She never even visited Loughloe House and her decision not to visit has caused huge anger amongst the people of Athlone.
•    Health service provision in Athlone is being decimated. The HSE withdrew €20 million from their capital budget which was allocated in the previous budget for the provision a Primary Care Unit in Athlone.
•    Portiuncula Hospital in Ballinasloe is facing downgrading.
•    Midoc, which provides out-of-hours GP service, is under threat after nearly ten years due to a funding shortfall.
•    Service after service is being taken from St Vincent's hospital in Athlone and relocated to hospitals in Ballinasloe and Tullamore. It is feared that the remaining services at St Vincent's hospital are under threat also.
•    And now the HSE propose closing Loughloe House nursing home.
Last Saturday, nearly 2,000 people took part in a protest march in the town. Over 1,000 people have signed up to a Facebook page to keep Loughloe House open, with hundreds more signing petitions. About 250 people attended a public meeting on the issue this week.
It is totally unacceptable and intolerable for the HSE to take this decision to peddle their agenda of privatisation and to be backed by some local politicians.
This decision needs to be reversed immediately.
As one woman told me when I visited the centre:
"Is this what I paid the high taxes for?  I emigrated in search of work, sent the money home to feed my family, and now in my hour of need I am being evicted from my own home."