20 May 2010 Edition
Youth unemployment conference to be held in Dublin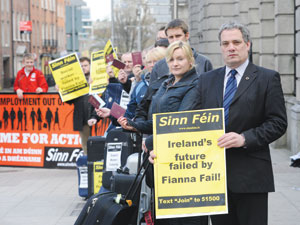 ÓGRA Shinn Féin has announced details of their forthcoming National Youth Unemployment Conference, to be held in the Teachers' Club in Dublin on Saturday, June 5th, at 11am.
Ógra National Organiser Donnchadh Ó Laoghaire said:
"This conference aims to bring together various strands of opinion from the trade unions, political parties and youth organisations to explore the issues surrounding youth unemployment and to examine what needs to be done, socially, politically, and economically to combat youth unemployment."
YOUNG AND UNEMPLOYED
The conference will open with a discussion on 'What the Reality is for the Young Unemployed in Ireland in 2010'.
This will be followed by a selection of workshops on 'Job Creation', 'Trade Unionism', and 'Creating a Vocal Lobby for Young People'.
These talks will include speakers from organisations such as the Irish National Organisation of the Unemployed, independent think-tank TASC, the Union of Students in Ireland, the National Youth Council, and more.
It will be concluded by a youth political debate between Ógra Shinn Féin, Labour Youth and Socialist Youth on 'Creating a Political Alternative'.
Calling for young republicans to mobilise for the event, Donnchadh Ó Laoghaire added:
"This conference will hopefully provide an impetus for a real discussion and what we as a society need to do, both to create jobs and to create a political alternative."