20 May 2010 Edition
O'Neill slams closure of A&E in Mid-Ulster and Whiteabbey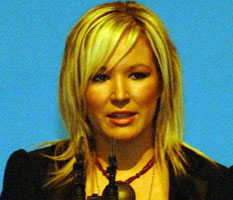 HEALTH MINISTER Michael McGimpsey's decision to close the A&Es in the Mid-Ulster and Whiteabbey hospitals has been slammed by Sinn Féin MLA for Mid-Ulster Michelle O'Neill, the party's spokesperson on Health.
"The decision by the Health Minister to close the A&E unit in the Mid-Ulster, replacing it with a minor injuries unit is wholly unacceptable.
"This decision will further compound the dereliction of health service provision in the wider Mid-Ulster area. Many of the rural areas of Mid-Ulster will now be well outside the so-called golden hour of travel to a hospital. This timeframe is key to survival rates in emergencies."
She added that there are concerns as to what will happen to the staff.
"Will they be redeployed, who will cover their travel or will they be laid off, furthering the unacceptable cutbacks in frontline services by Micheal McGimpsey?
NO CHANGE?
The Sinn Féin MLA recalled that, previously:
"We were told that there would be no change to the status of the Mid-Ulster or Whiteabbey hospitals until Antrim and Causeway hospitals' capacity was increased.
"However, since then there has been no new build in Antrim or Causeway hospitals and there is no viable increase in capacity. How either hospital will cope is beyond me.
"I am not convinced that there has been adequate consultation on these closures. While the safety of patients is paramount, we need to see proper service provision for those who require it."