20 May 2010 Edition
THE JULIA CARNEY COLUMN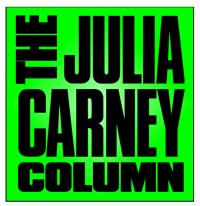 The gloating voter
IT'S good when bad things happen to bad people. It makes you feel there's a sense of justice in the world, as if deep down it's not such a bad old place after all. Sure, it's great when good things happen to good people and it's even better when good things happen to me because, as the woman in the ad tells me, "I'm worth it."
But coming not far behind them is the feeling of satisfaction when you see the bad guys get a beating, the smugness, the gloating. When you can sit in front of the TV, lick your lips and almost taste the salty goodness of the tears pouring down the cheeks of your vanquished enemies.
And if it's an election you can imagine them sitting at victory parties that are more like a crap wake, drinking their pints slowly, the numbing realisation that everything they've done in the last four weeks has been for nothing.
So even though the Brits have put the Forces of Ultimate Darkness back into Downing Street, we should still pay tribute to their good sense in giving a merciless kicking to the dopey fascists of the BNP.
As the election campaign started, their director of publicity was lifted on suspicion of threatening to kill the party leader, 'Nasty' Nick Griffin. The party's webmaster quit and publicly accused Griffin of being "pathetic, desperate and incompetent". Clearly, this is a man with leadership ability coming out his backside.
But it got worse.
Of the 28 BNP councillors up for re-election, all but two lost their seats. They hoped to take control of Barking and Dagenham Council in Essex, where they had their largest presence at a local government level, their 'jewel in the crown', but instead they lost all their seats!
Cut-price führer Griffin, parachuted into Barking's parliamentary constituency in an effort to win a seat, managed to reduce their share of the vote. Proof, if we didn't already have it from his PRO and his website administrator, that the more you get to know Griffin the more despicable and loathsome he appears.
But of course just because he's in charge of the party doesn't mean cowardly Nick is taking any responsibility. He blames "opposition plants, sacked and bitter incompetents and ambitious knaves..."
Those knaves, eh? You never know what they're up to with their ambitions.
But what's he blaming them for because, in the same e-mail according to Griffin, "this was the best general election result in the history of British nationalism".
I can't wait for the worst, Nick. I really can't.

AND while we're on fascism...
In the North, the jackboot mafia of the Traditional Unionist Voice also took a hiding. Jim Allister predicted he'd take the Paisley seat in North Antrim, a choice that reminds me of the description of one of Fine Gael's Mitchell brothers as being "the evil of two lessers". Elsewhere, the TUV was talking up their chances of taking Assembly seats at the next election.
And? Well, Gerry Adams polled almost as much in West Belfast as the TUV did across the entire Six Counties. They reached the dizzy heights of 3.9%. In East Antrim, that nationalist heartland, they were even beaten by the Stoops, whose election machine could be outwitted by Scooby Doo.
Ahead of the election, the TUV's website was full of activity. On the eve of polling day, Jim was asked for a 60-word message to voters, where he claimed that the TUV was the only party standing in "principle opposition" to "unrepentant terrorists in government", which is a little harsh on former UDR types, I suppose.
Then the people voted and there was silence. For a week the TUV's press team eased their pain with a bacchanalian orgy of sex, drugs, hard liquor and speed metal music before they crawled into the Allister bunker to cobble together this message for the ages.
"Of course, our election results were disappointing and far below what the hard work of our election teams deserved, but I wish to thank all who contributed and those who voted TUV.
"There are still unionists who have not bowed the knee to terrorist-inclusive government and who still know and vote for what is right."
That's it?!! That took you people a week? That's 55 words. That's even less than your ridiculous 60-word eve of polling message. Is Jim Allister paying you people by the word? It took you a week to come up with a glorified version of "They haven't gone away, you know?"
Seriously, lads, we expect better. Nick Griffin came up with a rant that goes on and on for ages. You take all the fun out of gloating.