20 May 2010 Edition
Jobs for the older boys - Ireland's golden circle - Old, overpaid and unaccountable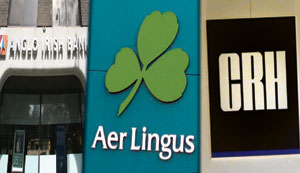 BY ROBBIE SMYTH

SO how many CEOs and directors of Irish state agencies and our corporate giants do you know?
Don't worry if the answer is 'None'. Like most of us you have been excluded from an elite club of people who run corporate Ireland today. They tend to be older white men, who went to college and live in the wealthier enclaves of Dublin. You won't meet them on the bus, LUAS or DART.
'Mapping the Golden Circle', a new report published last week by independent Irish think-tank TASC, found that 39 Irish people held 93 directorships in 33 of some state's largest banks, public sector companies or government agencies and held an average of 10 additional directorships in other firms during the period 2005 to 2007, which were the last boom years of the Celtic Tiger economy.
These 39 people held a staggering 398 additional directorships.
The TASC report is only a small snapshot of corporate Ireland. It highlights, though, systemic failures in how important state agencies and private sector corporate concerns are run.
TASC questions how independent these agencies and companies are if they share directors, especially in the context where "a significant proportion of the Director Network held senior full-time positions either as CEOs, executive directors or equivalent".
The report also found that women were "significantly under-represented" on the boards of leading Irish companies.They also found a lack of diversity "across other characteristics, such as social background, occupation and age".
Add in high wages, lack of regulation, unclear divisions between the public and private sector in what TASC describes as an "overlap" between state-owned bodies acting to "serve the common good" and private companies "responsible to market interests" and you can see how the corporate collapse of the banking and construction sectors over the past three years came to be.

The TASC methodology. Who do you know?
This is a simple study that measures only the links between directors of what they describe as "Ireland's top companies" on the assumption that these bodies are "run by a small pool of well-connected individuals".
TASC selected 40 companies: 26 private sector (24 of whom have stock exchange listings) and 14 state-owned bodies. They found that 33 of the 40 had interlocking boards, which means, "These companies had directors who were members of two or more boards simultaneously during the period 2005 to 2007."
TASC found 39 directors who were members of two or more boards simultaneously and they label this group the "Director Network".
'An Phoblacht' spoke to TASC Director Paula Clancy, one of three authors of the report. Their purpose, she said, was "to put facts behind the anecdotes" about an alleged 'Golden Circle' in Ireland.
The 40 companies were selected because they were either some of the top firms on the Irish Stock Exchange, were economically significant (as in the case of Eircom) or were leading state agencies, such as the IDA, Enterprise Ireland and Forfás.
The companies selected accounted for nearly €80 billion annually to the Irish economy and 300,000 jobs, according to Clancy.

Mapping the network
TASC tracked the directors of their 40 bodies and have arranged their findings graphically, hence the maps that fill the report.
Paula Clancy said that all of the information comes from the public domain and their study is "a contribution of fact" to the growing debate about corporate governance in Ireland.
So we know, for example, that the youngest director in the survey was 46; that they were mostly men; all college-educated; and lived in the more affluent areas of Dublin. None of this is that surprising, and the survey has fulfilled TASC's objective of putting facts behind the anecdotes about an unaccountable economic elite running Irish business and the government agencies that fund them.

Case study: The financial institutions
The report included four banks in their study and found that three of them had the most interwoven boards in the review: Anglo Irish, Irish Life & Permanent, and AIB.
Anglo Irish Bank shared board members with a wide variety of 'marquee' companies, including Greencore, Bord na Mona, United Drug, Aer Lingus and Smurfit. The collapse of Anglo Irish has been well-documented, including the moving of billions of euro from one bank to another for a week to make their asset position look better in annual reports, multi-million euro loans for directors and questionable lending practices that have bankrupted the firm.
It is all the more worrying then that directors from this board are found on the Dublin Airport Authority and the Dublin Docklands Development Authority, a state agency currently mired in controversy over alleged corporate malpractice in its business dealings.
Anglo Irish also shared directors with Forfás, the lead state enterprise agency.
Irish Life & Permanent's links with the construction industry are also strong, with board members from the Grafton Group, Kingspan, and Cement Roadstone Holdings (CRH), while it too had a director on the board of Enterprise Ireland, the enterprise agency for large Irish exporting businesses.
TASC found that 24 directors in the four banks in their study had 63 directorships across 25 boards and accounted for 68% of the 398 additional directorships held by the Director Network.
Looking from the general business sector back to the banks, you find that Aer Lingus and CRH had directors on three of the four banks in the study, while the DDDA, Dublin Airport Authority, Elan, Greencore and United Drug had directors on the boards of two banks.

Haven't we been here before?
In 1991, ITV broadcast a 'World in Action' documentary by Irish journalist Susan O'Keefe highlighting corruption in the Irish beef-processing industry. The same year, a Sunday newspaper revealed that four directors of what was the then newly-privatised Siucre Éireann, now Greencore, had misused their corporate power. The four secretly bought and then sold a plant to Siucre Éireann without revealing that they were the beneficial owners of the company.
It was also in 1991 that another Irish paper revealed, retracted and then, after the Greencore debacle, republished an accusation that the then Telecom Éireann (now Eircom) Chairperson Michael Smurfit had been involved in the selling of a parcel of land in Ballsbridge to Telecom for a corporate headquarters without revealing that he was one of the beneficial owners of the site.
The 1990s were the decade when it was revealed that National Irish Bank had been siphoning funds in bogus charges from its customers' accounts, and nearly all of the main financial institutions had been defrauding the state of billions of euro: €859 million in the case of DIRT evasion and €905 million in the case of illegal offshore accounts.
The 2002 Ansbacher Report found that an illegal private bank had been run out of the corporate headquarters of Cement Roadstone and that a wealthy elite had used this bank to avoid tax.
These are just some of the highlights that we know about in an encyclopaedia of a corrupt corporate Ireland that includes bribes to politicians to rezone land, changing the tax code, making small adjustments in the annual Finance Act, pushing key contracts and franchises your way, privatising key state resources on the most favourable terms.
Cumulatively, these events show a corporate Ireland rotten with vested interests, profiteering, corporate malpractice and, in many cases, endemic political corruption. But we knew this in 1990, 20 years ago, and little has been done to make Ireland a more transparent place to do business.
Corporate Ireland has shown that it cannot self-regulate. Government has shown that it is all too vulnerable to the lobbying of corporate Ireland. Only last week, former Taosieach and Finance Minister Bertie Ahern admitted that there was "fierce" and "endless pressure" on keeping property-based tax incentives in the tax code. So what other 'fierce' and 'endless lobbying' did he face on other fronts?
The failure of self-regulation was raised by Paula Clancy in her interview with 'An Phoblacht': "A value shift needs to happen." Clancy believes that we need a recognition that good corporate governance is important and in particular there must be "a greater focus on public interests".
The solution proposed by Clancy is to "shift to a legislative compliance" based on a recognition that self-regulation is failing, and there is a need for a "philosophical shift".
In particular, Clancy cites issues like caps on remuneration. These sections of the report on how executive remuneration committees work makes fascinating reading. For example, former Anglo Irish Chief Executive Seán Fitzpatrick was on that bank's remuneration committee. He was also chair of the remuneration committee at Smurfit and Greencore, where one of the Greencore remuneration committee members was also a member of the same grouping in building firm McInerney Holdings, who had shared a director with Anglo Irish Bank. All very cosy.
Other issues highlighted by Clancy include a greater diversity in the membership of executive boards, particularly with an emphasis on including more women and employees.
There is also a need for an independent system of public appointments to state bodies with the posts advertised.
TASC's map has set a benchmark for what we know about corporate Ireland.
Beyond here there be dragons, who will slay them is open to question.
What mapping the Golden Circle found
39 individuals held multiple directorships across 33 companies
11 people sat on three to five of the top boards simultaneously
The 39 people identified held an additional 398 directorships
One in nine (11%) of the 572 directors in the 40 companies were women
€267,699 – Average payment to chairpersons of private companies
€66,769 – Average payment to non-executive directors in private companies
46% – Increase in private sector CEO remuneration between 2005 and 2007
42% – Increase in public sector CEO remuneration between 2005 and 2007
23% – Increase in private sector non-executive pay, 2005 to 2007.
€1.6 million – Average level of chief executive pay in 2007
136:1 – The ratio of average CEO pay to poverty income threshold that year
Over half of the directors in the survey held positions on banking boards.
Multiple directorships connected seven state agencies to 26 private companies
Annual reports of state agencies were less transparent that those of private companies listed on the Irish Stock Exchange.
One in four of the Director Network members sat on both public and private sector bodies, while half had at some time sat on a state agency board.
TASC's recommendations
Public interest must be safeguarded as part of the governance of private and publicly-listed companies of major importance to the Irish economy.
Ireland needs a new system of corporate governance to ensure:
•     Directors' independence
•     Capacity of directors to fulfil their duties
•      Diversity of boards
•     Quota systems for gender equality
•     Limits on remuneration of board members and rules on loans to directors
•     Reducing or eliminating the holding of cross-directorships
•     Mechanisms for ensuring interests of employees, consumers and the wider public are represented