25 February 2010 Edition
Galway students discuss left republicanism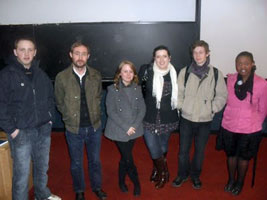 Galway students gathered in the Cairnes Theatre, NUIG last Tuesday 16 February to hear Dublin Sinn Féin Chairperson Eoin O'Broin give a talk on Sinn Féin and the Politics of Left Republicanism. The event, which turned into a thoroughly enjoyable and engaging debate, was organised by the D'Arcy/Mellows Cumann in the college and attracted over 30 young Galway students.    
Following an introduction from NUIG member Luke Callinan, O'Broin – Ógra Shinn Féin's first National Organiser – spoke of the origins of Sinn Féin, the party's history and its possible futures.    
The talk provided students with an interesting view on the the politics of left-wing republicanism and the various political and social opinions that it embodies. "Sinn Féin is part of a distinct left-republican tradition in Irish society whose future lies in the globally resurgent radical democratic left," said O'Broin.
Ógra Shinn Féin activist Mairéad Farrell, speaking on the success of the event, said: "The politics of socialist republicanism have often been misunderstood and people also tend to treat them as two distinct notions, however, as Eoin explained tonight the concepts of socialism and republicanism are inextricably linked, and for anyone to say differently is to undermine the concepts of equality and freedom that republicanism espouses."