25 February 2010 Edition
High Court rejects Basque extradition attempt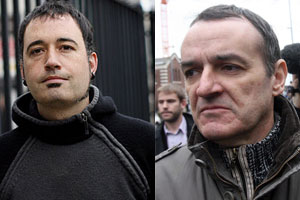 The Don't Extradite the Basques Campaign has welcomed the Belfast High Court ruling on Wednesday 24 February that there is no basis to extradite Arturo 'Beñat' Villanueva to Spain on 'terrorism' charges.    
The campaign group is calling for an immediate end to extradition proceedings against both Belfast-based Basque men fighting for their right to remain in Ireland, Villanueva and Iñaki de Juana.    
Campaign spokesperson Kevin Morrison said: "The High Court has made the correct judgement today. The case against Arturo 'Beñat' Villanueva is clearly politically motivated and seriously flawed in legal terms. We welcome the judgement and we urge the Spanish authorities to cease their vindictive pursuit of Villanueva and Iñaki de Juana and drop the extradition proceedings now.    
"The High Court ruling supports Judge Tom Burgess's original ruling in the Recorder's Court last year that the warrant is flawed and lacking in sufficient detail and particularities of offences. The nature of the warrant, rejected now by both courts, demonstrates the politically motivated nature of the extradition attempt.    
"The Don't Extradite the Basques Campaign believes the extradition proceedings against Iñaki de Juana, which are also based on his political opinions and not any criminal offence, must now be rejected."    
Villanueva was accused by the Spanish authorities of being a member of Jarrai, a Basque pro-independence political youth organisation, from 1994 to 2000. Jarrai was banned by the Spanish authorities in 2005 and categorised as a 'terrorist' organisation in 2007.    
Last year the Recorder of Belfast ruled that the warrant against Villanueva was invalid, as it failed to provide any specific details of the offence alleged against him – membership of pro-Basque independence political youth group Jarrai between 1994 and 2000.    
"An extradition warrant must contain particulars as to the circumstances in which the defendant is alleged to have committed the offence," Morrison said. "The warrant against Villanueva is completely lacking as to these particulars.    
"Villanueva and Iñaki de Juana are being pursued by the Spanish authorities for one reason – their political ideas in favour of Basque independence. The Irish community should stand beside these two men and ensure this attack on basic civil rights by the Spanish government is rejected."