25 February 2010 Edition
British government collude in MI5 torture cover up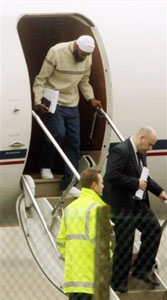 BY LAURA FRIEL

A British government attempt to interfere with a judgement highly critical of MI5 has heightened fears that the Bloody Sunday report by be doctored.
Derry MLA Martina Anderson says that interference with an investigation into allegations that MI5 colluded in the torture of a detainee, Binyam Mohamed, shows that the British government will seek to do whatever it takes to cover up its own wrongdoings.
"None of us should be under any illusion that they will treat the Saville report any differently, which is why the findings of the inquiry must be given to families at the same time as the British government," said Anderson.
"Otherwise, the British establishment, their government and their army, whose actions Saville was investigating, will have plenty of time to prepare their responses and their excuses and to edit, leak and spin the report to suit themselves," she said.
The Sinn Féin MLA was commenting after it emerged that a senior English judge was asked by the British government's leading lawyer, Jonathan Sumption, to 'reconsider' his criticism of MI5 in a draft judgement.
As Master of the Rolls, British Law Lord David Neuberger is one of the highest-ranking judges in England and Wales, second only to the British Lord Chief Justice.
Neuberger was one of three senior judges recently tasked to consider allegations that MI5 and MI6 officers connived in the torture of British residents captured overseas and interrogated about incidents relating to the 'war on terror'.
Binyam Mohamed, a British resident born in Ethiopia, was arrested and held in Pakistan in 2002. He was subsequently taken to Morocco and later held in Guantanamo Bay before being released without charge in 2009.
The judges' probe followed mounting public pressure from both sides of the Atlantic to hold an independent inquiry after a U.S. court accepted as true the testimony of torture described by one of 13 detainees currently seeking redress through the American and British courts.

TWO YEARS OF TORTURE
According to Washington's Federal Court, Binyam Mohamed's "trauma lasted for two long years" and "during that time, he was physically and psychologically tortured. His genitals were mutilated" and "he was deprived of sleep and food".
The U.S. ruling was followed by a hearing in Britain's Court of Appeal, which accepted that British authorities had been involved and facilitated the ill-treatment and torture to which Binyam Mohamed had been subjected while under U.S. control.
The complicity of MI5 in the ill treatment and torture of 'war on terror' detainees contravenes international commitments made by the British government in 1972. The commitments were made after the British government was found guilty of abusing Irish internees by using degrading and ill treatment as a prelude to and during interrogations.
Significantly, many of the allegations emerging today mirror the so-called in-depth interrogation methods used by the British in Ireland and ruled as unacceptable by an international Court of Human Rights in the 1970s.
In his draft judgment of the case of Binyam Mohamed, Judge Neuberger condemned MI5 for failing to respect the human rights of detainees, misleading the British Parliament's Intelligence and Security Committee and being so riddled with a "culture of suppression" that any government assurances made on the basis of information from MI5 were worthless.  

JUDGE 'RECONSIDERS'
Earlier this month Neuberger's draft judgement was sent to all parties involved, a procedure used only to correct minor details such as the spelling of names. Technically, it has been illegal for the British government to tamper with judicial rulings for the last 400 years.
But despite this, the government's leading lawyer, Jonathan Sumption, secretly wrote to the court asking Neuberger to 'reconsider' his draft judgement in relation to criticism of MI5. Sumption detailed the criticism he wanted deleted. Neuberger complied and Sumption's role may never have come to light had his letter not been leaked to the British media.

CHECKERED HISTORY
Sumption has an interesting and checkered history. He was used by the Labour government to block the extradition of General Pinochet, who was facing war crimes proceedings, to close down the investigation into the BAE Saudi bribery scandal and during the Hutton Inquiry, into the death of Iraq arms inspector David Kelly. But his links with the Conservative Party go much further back. In the 1970s Sumption sat on a secret Tory governmental group which drew up plans to defeat British trade unions.

WRONG-FOOTED
Ironically, following the leak of his letter to Neuberger, Sumption's intervention to cover up the wrongdoings of MI5 operatives and their policy masters created the kind of media storm Sumption was hoping to avoid. It also wrong-footed the current head of MI5, Jonathan Evans, who was confidently defending MI5 in the Daily Telegraph. In a letter to the editor Evans insisted there had been no torture cover ups.
"There have been a series of allegations that MI5 has been trying to 'cover up' its activities. That is the opposite of the truth. People who choose to work in the service do so because they want to protect the UK and its liberties. We are an accountable public organisation and take our legal and oversight responsibilities seriously," Evans told the Telegraph readership.
Evans' comments were immediately dismissed by lawyers acting for the former detainees. They pointed out that at the time of the abuse allegations, Evans was head of MI5's G branch with responsibility for counter terrorism.
This puts Evans in the frame at the time when an MI5 field agent complained that he believed detainees were being tortured before he interrogated them. A circular was immediately set out to MI5 agents in the field advising them torture outside British jurisdiction was none of their concern, advice at odds with commitments made by the British government.
Legal experts say the MI5 director is likely to be called as a witness in some of the legal actions currently being pursued by former detainees. A lawyer acting for Binyam Mohamed, Clive Stafford Smith, said Evans was probably responsible for the policy instructions circulated by MI5 to its operatives at that time. "It's a criminal offence to tell an agent in the field to ignore allegations of torture," said Stafford Smith.

MEDIA ATTACKED
Meanwhile the British Home Secretary, Alan Johnson attacked the British media for reporting the scandal. "The security services in our country do not practice torture, they do not endorse torture, they don't encourage others to torture on our behalf, they don't collude in torture. Full stop," said Johnson.
In a joint statement by Johnson and the British Foreign Secretary, David Miliband, the British government claimed "the allegation that our security and intelligence agencies collude in torture is disgraceful, untrue and one that we vigorously deny".
David Miliband had already spent months trying to block the British courts access to CIA intelligence documents that implicate British MI5 agents.

IRISH PRECEDENT
The fact that MI5 is prepared to use torture, often through the actions of a third party, comes as no surprise to many Irish people. After the internment of hundreds of Irish people by Britain in 1971 many detainees suffered systematic abuse at the hands of British forces and British-trained members of the RUC.
After the imposition of non-jury Diplock courts, which would convict on the basis of uncorroborated confession evidence alone, torture in interrogation centers like Castlereagh and Strand Road were part of the 'conveyor-belt' process of imprisoning those opposed to British occupation.
In Ireland, the abuse of detainees in interrogation centers and prisoners in the H Blocks and Armagh, was only one aspect of Britain's MI5-led dirty war. As well as torture, British forces also engaged in extra-judicial killings either through the mechanism of shoot-to-kill or the organisation and control of loyalist death squads.
Inquiries into the illegal activities of MI5 and its operatives in Ireland have been repeatedly blocked by successive British governments, the most high profile of which, the Stevens' Inquiry into the murder of Belfast defence lawyer Pat Finucane, has never been published.
In a recent screen interview, the former British Home Secretary, Roy Jenkins described MI5 as "naturally secretive" towards the government as well as enemies of the state. Life in the "spy-bound world," said Jenkins, "gave a person a distorted view of things and if you weren't careful you became enmeshed in an Alice in Wonderland world where Truth is Falsehood and Falsehood is Truth".
It's unfortunate that subsequent British Home Secretaries have not felt compelled to speak with similar frankness.
SET THE TRUTH FREE!: Sinn Féin's Paul Fleming and Martina Anderson talk to Tony Doherty, whose father Patrick was killed on Bloody Sunday