25 February 2010 Edition
Adams praises Ballymurphy families' determination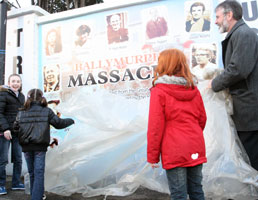 Sinn Féin west Belfast MP Gerry Adams on Thursday 18 February unveiled a mural in Beechmount Avenue in Belfast in support of the campaign by the families of 11 people killed by the British Army in August 1971.
"I want to commend the work of the families and their determination and courage in continuing to pursue this campaign over many difficult years," he said. "The families have been engaged in a whole series of initiatives to raise public consciousness about those events.
"The families of the 11 people killed by the British Army's Parachute Regiment in the Ballymurphy area, in the three days following the introduction of internment in August 1971, want an independent international investigation into the deaths of their loved ones and an apology from the British government. The families want the truth.
"We have met as a group with the British Secretary of State Shaun Woodward and we are seeking a meeting with the British Prime Minister.
"We won't take no for an answer. We think it's important that the British establishment face up to what was done in its name in a little housing estate here almost 40 years ago.
"All of these families deserve the full support and encouragement of the community, and of the Irish government, in their efforts to secure an independent international investigation in these deaths; and to have the British government acknowledge the truth surrounding the shooting dead of their loved ones."