25 February 2010 Edition
Newry bombers have nothing to offer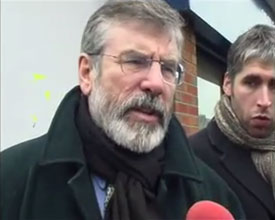 This week's car bomb attack outside Newry courthouse was an attempt by dissident republicans to prevent next month's planned transfer of policing and justice powers, said Sinn Féin.
The PSNI said it was a "sheer miracle" no one was killed. Officers were left with hardly any time to clear the area around the Newry courthouse before a bomb weighing up to 250lb exploded in a car just after 10pm on Monday.
"The fact that we're in the process of devolving policing and justice powers and there's an attack on a courthouse will not be lost on people," said Assembly minister Conor Murphy. "These people are trying to drag us backwards and ensure we have the British army back on the streets."
Martin McGuinness concurred, saying: "The perpetrators are acting against the democratically expressed wishes of all of the people of Ireland. They have nothing to offer our society."
Gerry Adams, said that he and senior party colleagues had received half a dozen warnings in the past five weeks that they were being targeted by dissident republicans.
He called on the dissidents not to hide but to engage in a political debate about the reasons for the violence. "Obviously, these actions deserve condemnation and denunciation, but I think the media have a very significant role in all this," he said. "I have been listening to politicians from all the parties condemning these actions. Where are the spokespersons for the support groups, the people who are eagerly attacking Sinn Féin at every turn? Where are they now? When something like this happens they run for cover.  I think they should come forward.
"We are prepared to debate these matters out with them. There is clearly no support within the broad republican community for actions like this and I think that the people who would be attacking us should come up, show a bit of guts, and explain what this is about.
"There is a chance, and it has been well chronicled, democratically endorsed, to build justice and to build freedom through perfectly peaceful and democratic ways. That is not served by those who run for cover in the wake of an action like this. Let them come forward if they have any stomach and guts at all and defend what is going on."