25 February 2010 Edition
Did Fianna Fáil shaft Sargent?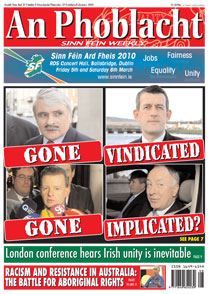 Government reeling after fall of Willie O'Dea
BY MÍCHEÁL Mac DONNCHA

The shock resignation of Trevor Sargent on Tuesday may well have come as a result of the forced resignation of Willie O'Dea the week before. Speculation was rife in Leinster House that it was a senior figure in Fianna Fáil who leaked the information about Sargent's letter to a Garda about a constituent. If so, the future of the Fianna Fáil/Green Coalition is in grave doubt.
During the Dáil debate on O'Dea last week, both O'Dea himself and Minister for Justice Dermot Ahern adopted a hectoring tone, throwing accusations at the Opposition. O'Dea is known to be bitter about his toppling as Minister for Defence. Interviewed in Limerick after his resignation, O'Dea stated that "other ministers" had done worse. He also described his conduct as "a small mistake". 
It was O'Dea's unapologetic tone and abusive behaviour, as well as the release of the infamous tape recording of his defamatory words about Maurice Quinlivan, on top of the 'bouncing' of the Greens into a confidence vote, that finally caused the Green worm to turn. O'Dea had to go or else the government would go but his departure could yet spell the beginning of the end for the government anyway.

CONTRASTING EXITS
Commenting on Sargent's resignation, Sinn Féin Dáil leader Caoimhghín Ó Caoláin said the Taoiseach should not go through the 'charade' of a reshuffle:
"The resignation of Trevor Sargent contrasts with that of Willie O'Dea. The former Minister of State for Food acknowledged that he acted wrongly and consequently resigned. Trevor Sargent has acted appropriately in stepping down. Minister O'Dea had to be dragged twice through the courts and through the Oireachtas before he was eventually forced to resign.
"The Taoiseach should not now go through the charade of a reshuffle to fill the vacant Cabinet and Minister of State posts. This entire government, which is totally discredited, should now resign."
Ó Caoláin said O'Dea's resignation was "entirely appropriate but like the minister's apology in the High Court on 21 December it had to be dragged kicking and screaming from the Fianna Fáil/Green government".
Ó Caoláin continued: "This dysfunctional and totally discredited Government should follow Willie O'Dea out of office. Fianna Fáil, having devastated the Irish economy with their disastrous policies and mismanagement over the past 12 years are now, with the Greens, trying to force ordinary people to pay the price.
"In the past six months they have lost a Ceann Comhairle and now a Minister for Defence, but these two lay-offs pale into insignificance when compared to the figure of over 436,000 people who are unemployed as a result of Fianna Fáil/Green misrule. This government should go."

COWEN UNDER FIRE
In the Dáil debate last week on the government motion of "complete confidence" in Willie O'Dea, the Sinn Féin Dáil leader was highly critical of Taoiseach Brian Cowen for claiming that the issue was a 'personal' one for the Minister. Ó Caoláin pointed out that the Taoiseach has said in the Dáil that Willie O'Dea was "acting in his private capacity, not in pursuance of his ministerial duties."  Ó Caoláin said:
"Well, Taoiseach, the Minister was acting alright  –  acting the maggot, as is his well-established inclination.

"So let us take a look at the facts. They, of course, are totally different from the Taoiseach's vain attempt to dismiss Minister O'Dea's actions as something personal or unconnected to his political life and responsibilities.
"Minister O'Dea, the Deputy for Limerick East, was stung by a political charge from Maurice Quinlivan, then a Sinn Féin local government candidate, in the run-up to the June local and EU elections. The charge was that the minister was wasting taxpayers' money by having at his disposal six civil servants to assist with his constituency work. This was a political, not a personal charge. It concerned the deployment of public money which was allocated to the minister's office. It concerned Deputy O'Dea in his capacity as a TD and in his ministerial role.

SCURRILOUS AND DESPICABLE
"Minister O'Dea chose to respond in a most scurrilous, despicable and personalised way by falsely and outrageously linking Maurice Quinlivan to the operation of a brothel in Limerick City. Minister O'Dea is a political animal and one of the highest vote-getters in the country. He knew very well what he was doing, even though his tongue often runs ahead of his brain. He was trying to prevent an electoral breakthrough by Sinn Féin and Maurice Quinlivan in Limerick City, which the minister regards as his territory, his Fianna Fáil fiefdom.
"Even if one were to accept the minister's original affidavit to the High Court, which he admitted was false, the minister would still have a very serious case to answer because of his false allegations that were published in the Limerick Chronicle, not to mention the even more serious charges which were not published but which he did utter and which were recorded on tape. This was totally inappropriate conduct for any member of the Oireachtas, let alone a Cabinet Minister.
"Faced with this outrageous defamation, Maurice Quinlivan sought an injunction in the High Court to prevent Minister O'Dea from repeating his false statements. Minister O'Dea then swore the now infamous false affidavit. Justice Cooke in the High Court accepted the affidavit and on the basis of the minister's lie the judge refused the injunction application from Maurice Quinlivan.
"That decision was made in the High Court on 20 April. From then until the local elections on 9 June, and afterwards, Maurice Quinlivan had the minister's false accusation hanging over him. Many people thought that because Maurice had lost the application for a High Court injunction he had lost the action for defamation. Despite this, Maurice succeeded in being elected to Limerick City Council for Sinn Féin, a testament to his and his party's hard work on behalf of the people of Limerick and a sign also that the minister had no credibility among the electorate in attacking Maurice's character.
"Minister O'Dea subsequently changed his story when the tape-recording of his interview was revealed. But the damage had been done during an election and it was only in December that Maurice succeeded in his defamation case. The minister was forced to withdraw his comments and to apologise. He claimed in his 'Personal Explanation' that he corrected 'the mistake' when he realised it. That is stretching credibility, since it took him four months to do so.
"I do not believe Minister O'Dea when he says that he forgot he made the defamatory remarks. I believe he has abused the democratic system and the courts and should resign. His continuing defence of the indefensible makes his position untenable.
"We certainly have no confidence in this government and we want to see all of them, including Minister O'Dea, turfed out of office. That may have to wait until the Greens are eventually smoked out of the political bunker they are hiding in, or until someone on the back benches of Fianna Fáil finds a conscience. Otherwise our unfortunate country will have much more to undergo if Fianna Fáil and the Greens are allowed to continue to the bitter end of their term of office."