17 December 2009 Edition
Massive protest demands climate justice in Copenhagen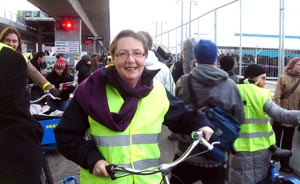 By Emma Clancy

AS the UN climate change summit entered its sixth day in Copenhagen on Saturday 12 December, 100,000 people from around the world took over the Danish capital to demand immediate action on reducing carbon emissions and climate justice for the developing world.
Indigenous activists from Peru and Bolivia led the youthful protest march from Copenhagen city centre to the locked-down Bella Centre, where the COP15 conference was taking place. A large bloc – System Change Not Climate Change – brought together a range of climate justice groups.
The delegates to COP15 from the European Parliament's GUE/NGL group, which Sinn Féin is part of, left the conference to join the mobilisation.
Families, bike-riders and mock-bankers joined polar bears and penguins – who had come to "save the humans"  – carrying placards and banners saying "Nature doesn't compromise", "Quit coal now", "If the climate were a bank, it would've been saved by now", "Reparations for climate debt" and "Bangladesh – Buy rubber boots!" (Low-lying Bangladesh, home to 200 million people, may be submerged by the sea this century if current emission rates continue.)
A reported 4,000 other protests took place around the world on the same day. A counter-conference  – Kilmaforum 09, the People's Climate Summit – is taking place over the same period as COP15 a few miles away in Copenhagen city centre. It has already involved more than 25,000 climate and social justice activists from around the world.
Renowned environmental activists including Vandana Shiva, Naomi Klein and George Monbiot, as well as the President of the Maldives Mohamed Nasheed, were keynote speakers at Klimaforum, which is also expected to be attended by Latin American presidents including Hugo Chavez, Evo Morales and Daniel Ortega in the coming days.

Police repression
The Danish police force has come under severe criticism from international human rights organisations for arbitrarily arresting almost 1,000 people at the demonstration. This came after the "preventative" arrest of 68 people the night before the main rally and was followed by hundreds of further arrests on Sunday and Monday, bringing the total to more than 1500 by Tuesday.
Three protests have been "kettled", a Climate Justice Action street party was tear-gassed on Monday night and those arrested have been kept in steel cages in temporary detention centres.

Tadzio Mueller, a high-profile spokesperson for Climate Justice Action was arrested on Tuesday 15 December by plainclothes police officers as he left the official talks at the Bella Centre, with Danish police refusing to reveal what charges are being brought against him.
Kevin Smith, an organiser for Climate Camp, said: "It's unbelievable that in a supposed democracy, undercover police are silencing spokespeople that are criticising the climate talks."

Science-based targets
The convergence by climate activists on Copenhagen is aimed at influencing the outcome of the COP15 negotiations, which have so far infuriated African and other poor countries to the point where they walked out of the talks for several hours on Monday 15 December.
The main points of contention in the negotiations are: whether it will be legally binding, emission reduction targets, finance for developing countries for adaptation and mitigation of climate change, and the future of the Kyoto Protocol.
Calling for a legally binding treaty as negotiations failed to advance on Tuesday, Sinn Féin Six-County MEP Bairbre de Brún, who is part of the European Parliament's 15-person official delegation to COP15, said from Copenhagen: "We need to know what real emissions reductions will be made and to know that the necessary financing will be made available to fund the actions to tackle climate change and its effects."
Climate scientists believe emissions must peak by 2015 and then be quickly reduced if global warming is to be kept to below 2C on pre-industrial levels. The UN's Intergovernmental Panel on Climate Change said in 2007 that 2C was the threshold that, if crossed, would result in catastrophic, 'runaway' climate change.
 "The developed world must agree ambitious targets that reflect the latest science. Science tells us that industrialised countries should reduce emissions by 40% by 2020 and by 80-95% by 2050 in order to achieve a safe climate," de Brún said.
She added that the Copenhagen deal should contain provisions for being able to strengthen the emissions reduction targets to keep up with emerging climate science.
At this stage, the EU says it will reduce emissions by just 20% by 2020 (which it will raise to 30% if other states make similar commitments) and by 80% by 2050. The US pledges to cut emission by only 17% to 20% – on 2005 levels – by 2020, which amounts to just 4% on 1990 levels. This is one-tenth of what is demanded by the IPCC's 2007 report.
On 9 December, the Alliance of Small Island States (Aosis), a group of 43 countries, supported a proposal by member state Tuvalu to revise the warming target to 1.5C, saying that a rise of 2C would mean their nations would literally be wiped off the map by rising sea levels. The Aoisis was backed by 48 of the world's poorest countries.

Rich vs poor
In addition to ambitious, science-based targets by industrialised countries, Bairbre de Brún said a key element of a just agreement must be the provision of financial and technical aid to developing countries to enable them to put their industries and economies on a sustainable path and to adapt to the impact of climate change.
Discussing the EU's obligations, she said: "It has been estimated that the developing world will need €120 billion per year by 2020 to cope with these problems and the EU must implement the European Parliament's recent vote to provide at least €30 billion per year in climate funding to developing countries by 2020 in addition to overseas development aid."
Chief negotiator for the G77 group of 130 developing nations, Lumumba Di-Aping, angrily rejected the "Danish text" proposals leaked on the second day of the summit, which was drafted by the US, British and Danish governments among others, saying the proposal would kill both the UN Framework Convention on Climate Change (UNFCCC) and the Kyoto Protocol by equating the climate responsibilities of rich and poor nations.
He pointed out that $1.3 trillion has been spent on the global bail-out of the financial sector.
Di-Aping said the offer by rich countries – which, with 15% of the world's population, have emitted 80% of the greenhouse gases in the atmosphere – of $10 billion of immediate funding to the developing world to deal with the effects of climate change "will not buy people in developing countries enough coffins". Last year, 300,000 died from the impact of climate change.

People's summit
Speaking at Klimaforum, No Logo author Naomi Klein said: "The Bella Centre is the biggest case of disaster capitalism yet. The deal we really need is not even on the table." She added that she believed the most important thing that was happening in Copenhagen was the Klimaforum conference.
The counter-conference has developed a 'People's Declaration' on climate change, signed by thousands of indigenous people, farmers, scientists and environmental activists, with demands including abandoning fossil fuels within the next 30 years, climate debt reparations, rejection of market-orientated false solutions, and "real solutions to the climate crisis based on safe, clean, renewable, and sustainable use of natural resources".
Maldives President Mohamed Nasheed told the Klimaforum summit: "The social movements have the power to save the planet from the effects of climate change. My message to you is to continue the process of movement building after the conference."