17 December 2009 Edition
Did Flanagan endorse cover up?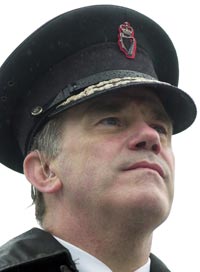 A barrister acting on behalf of the family of Robert Hamill has suggested that Ronnie Flanagan, the RUC Chief Constable at the time of the murder, "gave the nod" to the subsequent RUC cover up. The allegation emerged during the second day of closing submissions at the inquiry into the killing of Portadown Catholic Robert Hamill in 1997.  
Barrister Barra McGrory told the inquiry that the least the former Chief Constable could be held responsible for was "gross negligence" by giving "free rein" to the late Chief Superintendent Maynard McBurney to conduct the investigation into serious allegations against one of his officers.
But, said the Hamill family's barrister, the conduct of the then RUC Chief could only be characterised as gross negligence if Flanagan had presided over a series of investigative "mistakes". Judgement would be much harsher if it appeared that Flanagan had in any way endorsed a process of cover up by omission.  
McGrory said a "much worse scenario was that the chief constable knew very well how McBurney was conducting this investigation".  
"If one is looking for a reason why McBurney may have taken on himself to subtly and cleverly bury this allegation, it is that he had the nod and the nod could have come from only one person and that person is the chief constable," said McGrory.
McGrory reminded the inquiry an attempt at misdirection by the former chief constable who at one stage suggested that Robert Hamill's death "could have been caused by his own family cradling his head in a way that led to oxygen denial".  
Flanagan also displayed hostility to the victim's family by claiming that the dead man's sister Diane Hamill "had her own agenda to discredit the RUC".
"This tribunal must now look at the conduct of Sir Ronnie Flanagan from the beginning to the end through a different prism," said McGrory.
Evidence emerged within weeks of the killing that RUC Reservist Robert Atkinson contacted a prime suspect by telephone, Allister Hanvey and advised him to destroy forensic evidence that could have linked him to the murder.  
Hanvey was named by former girlfriend, Tracey Clarke as one of a number of loyalists who punched and stamped on Robert Hamill's head. The father of two never regained consciousness and died 12 days later.  
Hamill and another man were targeted because they were identified as Catholic by a loyalist mob intent on sectarian violence. The attack took place in full view of an armed RUC mobile patrol, which had been specifically deployed to thwart any loyalist attack on Catholics walking home from Portadown town centre.
Four RUC officers sitting in a Land Rover failed to intervene, failed to provide any first aid to the victims and made no attempt to question or detain loyalists involved.  
A barrister representing Allister Hanvey at the inquiry has confirmed that an RUC officer made a telephone call to his client's home shortly after the attack. The admission was made during barrister Mark McComb's closing statement to the inquiry.
"In relation to the tip off, we are faced, and I think everybody must accept, with the fact that there was a phone call from the Atkinson to the Hanvey household," said McComb.
"There appears never to have been one before. There was one subsequently, in May and the timing of it may certainly have some significance. I am limited obviously in my instruction as to what the content of that was or even the fact of it having been made but again perhaps this is not for me to speculate on but may I perhaps put a suggestion, and again it is totally without instructions, that Mr Atkinson did see Hanvey there [at the scene of the murder]. I think that is incontrovertible," said McComb.
The inquiry also heard that the officer in question should and could have been prosecuted. Andree McKee retracted a false alibi she had provided for Atkinson. She originally claimed that a telephone call made from Atkinson's home to a suspect's home hours after the murder, had been made by her husband Michael. However the couple later confessed it was a lie and both were convicted of attempting to pervert the course of justice.
The inquiry heard that Andree McKee had made herself available as a witness for the prosecution. Her lawyer Ronan Daly said she remained perplexed as to why the prosecution [of Atkinson] did not take place when "she remained all times able and willing to give evidence against him in court". Daly said that his client felt that failure to prosecute Atkinson has damaged the criminal justice system.
The inquiry is set to resume this week to hear further closing submissions.