19 November 2009 Edition
Ógra Shinn Féin National Congress meets in Belfast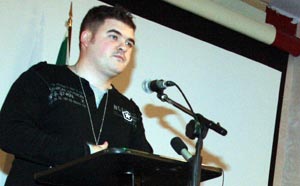 Celebrating a century of republican youth in struggle
THE Ógra Shinn Féin Comhdháil Náisiúnta (National Congress), 'A Century of Republican Youth in Struggle', attracted more than 100 delegates and young political activists to the Felons' Club in west Belfast at the weekend.
The event marked the 100th anniversary of the foundation of Ireland's first republican youth organisation, Na Fianna Éireann, by Constance Markievicz and Bulmer Hobson.
At a dinner dance on the Saturday evening, Ógra activists made a special presentation to families of Fians on the Roll of Honour. A new mural commemorating the centenary of Na Fianna Éireann was also unveiled at the former Andersonstown Barracks site, and a challenge match between Na Fianna veterans and Ógra Shinn Féin activists was held on Sunday.
During the congress, young republicans discussed the political situation across the country, assessed their work in various campaigns for social justice and charted the way forward for Ógra in colleges, universities, schools and in the community in the coming year.

NEW COLLEGE CUMAINN
The recent launching of several new cumainn across the country added to the upbeat and optimistic mood of the congress, which also paid tribute to the hard work of outgoing Ógra National Organiser Barry McColgan.
The audience also heard greetings from representatives of Basque pro-independence youth organisation SEGI, who outlined the repression and criminalisation campaign they are struggling against from the Spanish Government.
Senator Pearse Doherty gave the keynote address to congress, noting that he had been introduced to republican politics through Ógra.
"I wholeheartedly believe that this generation of young republicans will be the one that sees Irish independence achieved as a result of the major steps towards this that we have made in recent decades," Senator Doherty said.
"But this is no time to be complacent – the energy and impatience of young republicans will be vital not only to driving the process of Irish reunification forward but to developing effective solutions to the economic and environmental crises."

FREE, GREEN AND LEFT
A public debate on the theme 'Ireland's future: Free, green and left' was held in the Felons' Club on Saturday afternoon, featuring Sinn Féin activist and author Eoin Ó Broin and Green Party representative Steven Agnew.
Both speakers praised Ógra Shinn Féin for grasping the significance of the global environmental crisis and organising the public discussion on how to build a sustainable future powered by clean energy.

Eoin Ó Broin said:
"Our aim to build a true national democracy and a society of equals is absolutely bound up with the struggle for environmental sustainability. All of our political aims are tied to this because they are, of course, irrelevant if we are unable to continue living on this planet."
Ó Broin said he believed that small gains made by the Greens in government in the 26 Counties are nowhere near enough to justify the party's presence in a coalition involved in such savage attacks on working people.
Ó Broin and Ógra Shinn Féin activists from the audience reiterated Gerry Adams's call from earlier this year for progressive parties, social, labour and community groups across Ireland to work together to build an alliance for change.
Outgoing Ógra Shinn Féin National Organiser Barry McColgan said:
"This has been an excellent weekend to come together in remembrance of our fallen comrades but, more importantly, to build the ideas and organisation that will deliver the free and egalitarian Ireland for which they died." 
There was an upbeat and optimistic mood to the congress