19 November 2009 Edition
Harney to make the sick and the old pay for FF/PD recklessness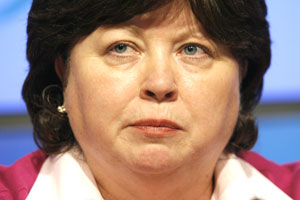 SINN FÉIN Dáil leader and Health spokesperson Caoimhghín Ó Caoláin has condemned as "grossly hypocritical" the claim by Health Minister Mary Harney that her plan to impose prescription charges on medical card holders would be in the interest of patient safety.
He said a statement last weekend by Harney indicated that medical card holders are going to have prescription charges imposed on them.
Ó Coaláin said: "This is a disgraceful decision. Minister Harney and her colleagues want to make the sick and the old pay for the recklessness of Fianna Fáil  /Progressive Democrats governments since 1997. Having got into Government on the basis of her leadership of a now defunct party, Minister Harney has remained there as it suits her Fianna Fáil and Green colleagues to leave her presiding over the disastrous failures of Government health policy.
"Now Minister Harney is set to preside over the introduction of prescription charges for medical card holders. This is nothing short of an attack on the medical card scheme itself. Once introduced, these charges will be increased year on year, thus hitting the most vulnerable hardest. It is grossly hypocritical of Minister Harney to claim that such a charge would be in the interest of patient safety because drugs are over-prescribed. This charge has nothing to do with addressing over-prescription; it would be a revenue raising measure pure and simple.
"Minister Harney has done little to address the gross over-charging for drugs on the part of the pharmaceutical companies and distributors. Instead she proposes to target the patient. Rather than imposing this charge the Minister should be tackling over-pricing and over-prescription, promoting the use of cheaper generic drugs and ending the massive Government subsidies to the private health industry."