12 November 2009 Edition
Belfast republicans to honour Four Martyrs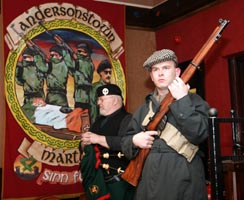 A pageant to honour the Four Martyrs executed by the Free State Government on 8 December 1922 will be staged by Belfast Republicans.
The commemoration which is to be held in the Andersonstown Social Club on Saturday 28 November is organised to be an educational evening and to that end young republicans from the area play the central role in the pageant.
Dressed in the uniforms of the 1920s IRA the young people form up as a flying column and stand guard over the Colour party as readers recite the stories, including the last words of the executed martyrs Liam Mellows, Dick Barrett, Rory O'Connor and Joe McKelvey.
A strident opponent of the Treaty, Mellowes told the Dáil on 28 April 1922,
"There would no question of civil war here now were it not for the undermining of the Republic. The Republic has been deserted by those who state they still intend to work for a Republic. The Volunteers can have very little faith at this moment in the Government that assembles here, because all they can see in it is a chameleon Government. One moment, when they look at it, it is the green, white and orange of the Republic, and at another moment, when they look at it, it is the red, white and blue of the British Empire. We in the Army, who have taken this step, have been termed "mutineers," "irregulars," and so forth. We are not mutineers, because we have remained loyal to our trust. We are not mutineers except against the British Government in this country."
The Four Martyrs Commemoration will be held on Saturday 28 in the Andersonstown Social Club followed by folk music.