12 November 2009 Edition
Bowls International targeted in sectarian attack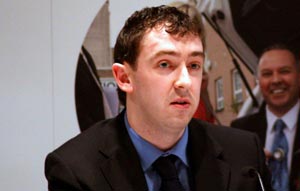 A County Antrim bowls player says a petrol-bomb attack at his Ballymoney home was sectarian.
20 year old Gary Kelly who represents Ireland also found a threatening letter in his hallway in the wake of the attack which was carried out in the early hours of Friday morning 5 November.
Sinn Féin's Daithí McKay who represents North Antrim in the assembly described the attack as, "absolutely disgraceful".
"People are being targeted for the sole reason that they are Catholic. The fact that petrol bombs are being used demonstrates the serious nature of these attacks".
McKay went on to say that he believes, "the UDA is behind numerous attacks on people and their homes and other properties in the North Antrim area".
According to Gary Kelly the incident happened as he watched television in his bedroom at around 1am on Friday morning.
"I heard a smashing sound and looked out and saw my car on fire".
Afterwards Kelly found a piece of paper with the threat, 'your republican connections will not go unnoticed' printed on it.
Kelly's car was destroyed in the blaze.