12 November 2009 Edition
RFJ action against British Government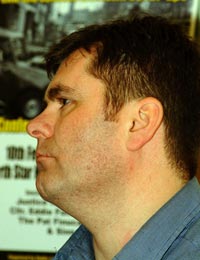 BY LAURA FRIEL
THE campaign group, Relatives for Justice is to take legal action against the British Government for its role in arming unionist paramilitaries.
Relatives for Justice (RFJ) had been inundated with calls from families of the victims of British state violence after news that a class action for compensation against Libya is being sought by unionists.
Unionists are demanding compensation from Libya for those killed as a result of IRA actions, in which it has been claimed Libyan arms were used. DUP MPs Jeffery Donaldson and Nigel Dodds were amongst a delegation which travelled to Tripoli last month to demand compensation from Colonel Gadaffi.
While most people support the right of any victim to seek compensation from any complicit government, the pursuit of compensation from Libya by unionists has fuelled anger within the northern nationalist community.
The move is being viewed as yet another attempt to pursue a partisan notion of victims which seeks to exclude the victims of British state violence. The DUP and other unionists have repeatedly tried to undermine the Good Friday Agreement's inclusive definition of victims as all those who have suffered as a result of the conflict.
British support for unionist reluctance to embrace an inclusive approach to the issue of victims has been evident from the outset. A recent example would be the British Secretary of State, Shaun Woodward's refusal to back a recommendation by Eames/Bradley for a modest "acknowledgement" payment to all victims. This stands in stark contrast to Britain's apparent willingness to facilitate unionist demands for an exclusive multimillion Libyan compensation package.
It's an endeavour the British government has been happy to indulge as it fits neatly into its own agenda of continuing to obscure Britain's role in the conflict. A role which also included the deployment of unionist death squads organised by British military intelligence and sanctioned at the highest level of government.
GROSS HYPOCRISY
Relatives for Justice is a campaigning and support group which represents many families of victims of British state violence. For them the notion of pursuing Libya while at the same time ignoring the culpability of the British government in the conflict smacks of gross hypocrisy.
"Families, understandably, have been outraged at the hypocrisy and double standards of unionists and the British government. They have rightly referenced the South African weapons and the role of the British government in assisting loyalists," said RFJ Director Mark Thompson.
"We have spent the past few years building a comprehensive case around the arming of loyalists by British military intelligence. To date those weapons have killed over 300 people across the community. It is clear that culpability for these killings rests firmly at the door of Downing Street. It is our intention to pursue these matters through the courts and to hold those responsible to account," said Thompson.
In 1988, 200 AK47 assault rifles, 90 Browning 9mm pistols, 500 fragmentation grenades, 30,000 rounds of ammunition and 12 RPG rocket launchers were brought from apartheid South Africa to the north of Ireland where they were distributed amongst unionist paramilitaries.
Throughout the process of procurement, transportation and distribution, British agents played key roles, facilitated by their British military masters and sanctioned by at least one member of the British cabinet. The arms shipment was part of a wider conspiracy which saw the British organise, arm and deploy unionist paramilitaries to carryout extra judicial killings.
ASSASSINATION BY PROXY
 Those targeted for what the British media dubbed "assassination by proxy", included IRA Volunteers, political activists opposed to British occupation, election workers, civil rights lawyers challenging British manipulation of the justice system and ordinary Catholics to provide cover.
The South African shipment represented a major boost to the unionist arsenal of illegal weaponry and resulted in a massive increase in unionist paramilitary violence. In the six years prior to the arms shipment unionist death squads killed 71 people. In the six years following, they killed 229 people and injured many more.
"It is our understanding that a member of the British cabinet at the time sanctioned Brian Nelson, a British agent working within the UDA and the covert British army grouping, the Force Research Unit's role in procuring the weapons," said Thompson.
"In recent weeks families affected by collusion and state violence have rightly raised these issues and RFJ are endeavouring, along with a team of lawyers, to address all of these matters.
"However our focus and that of the families continues to be centred upon the pursuit of truth and accountability. I would appeal to people not to be distracted by the DUP's energetic approach regarding the definition of a victim. Both Sinn Féin and the SDLP have made it clear that this is not a matter for change or negotiation," said Thompson.
"Families should remain focused on the pursuit of truth regarding collusion and state violence," he said.