12 November 2009 Edition
Deep anger as sinister British raids target Seán Hughes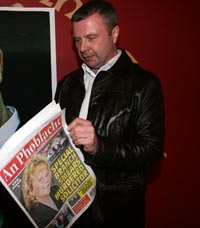 SINN FÉIN MP for Newry and Armagh Conor Murphy has hit out at the targeting of leading republican Seán Hughes and his family by the London based SOCA organisation. Sean Hughes's home and that of a number of relatives were raided by the PSNI on Tuesday morning.
Seán Hughes is a member of the Sinn Féin leadership and head of the party's Organisa-tional Development Unit.
Following the South Armagh raids and the targeting of Seán Hughes, Sinn Féin Newry/Armagh MP Conor Murphy said:
"Seán Hughes is a sound republican. He has spent his entire adult life engaged in the struggle for Irish unity and Independence. He has championed the Peace Process and the campaign to end political policing. There have been numerous attempts over the years to smear Seán's character.
"The raids today on Seán's home and those of a number of his relatives have caused deep anger in South Armagh. There is no justification for the deliberate targeting of Seán and his family today.
"Seán has been charged with nothing. Neither have any members of his family. It is unacceptable.
"Undoubtedly many people will see a more sinister hand behind the SOCA operation this morning. SOCA is based in and run from London. As in the past when political unionism gets itself into difficulties, as the DUP have in recent weeks, the faceless opponents of Irish republicanism who are still in prominent positions will seek to come to their rescue with operations like we have witnessed today."