12 November 2009 Edition
The west Cork killings of April 1922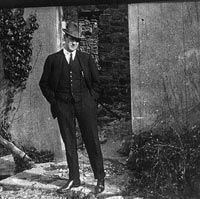 Some clarity emerges from behind the fog of speculation and spin

BY NIALL MEEHAN

IN early October, the RTÉ  One Irish-language series CSÍ broadcasted a programme on the killing in west Cork of 13 Protestants, 11 of whom had loyalist connections (the remaining two were relatives) between 26-29 April, 1922. IRA officer Thomas O'Neill had been shot dead on the 26th by those who would be the first three victims. His death seemed to spark a three-day (or rather night) wave of killings that terrified the local population.
The Protestant minority in the region thought it was the start of something many had feared: a sectarian backlash in reaction to the ongoing unionist pogrom targeting Northern Catholics. Many left west Cork temporarily. Northern sectarian killings, the burnings of Catholic-owned dwellings and businesses and expulsions from workplaces on a mass scale had the backing and approval of Six-County unionist political and religious leaders. Newspapers daily reported the tale of sectarian misery.
Near the end of April, Michael Collins, leader of the emerging Free State regime, publicly lost patience with Six-County unionist leader James Craig. Craig refused to stop the slaughter or to give expelled Catholics their jobs back. In fact, he supported the attacks. Collins consequently prepared in secret and in agreement with anti-Treaty IRA leaders to undermine and destroy the emerging sectarian state of 'Northern Ireland'. 

CIVIL WAR
The plan failed due to the onset of Civil War in June 1922. Collins's attack on anti-Treaty forces in the Four Courts started the war. It simultaneously blew up explosive ordnance stored there for the joint attack on the Northern regime, including valuable historical archives. The war had been precipitated by the assassination in London by IRA supporters of Collins of Sir Henry Wilson. Wilson, who had helped to set up the notorious B-Specials in the North, had been making increasingly hysterical speeches about "Bolshevik" republican murderers and calling for the thing his assassination almost precipitated: British reinvasion. Collins took seriously immediate British threats to reinvade after Wilson's assassination.
Instead of the uncertainty of reinvasion, the British achieved an unforeseen but agreeable result, a partitioned Ireland, both parts of which were divided internally. Increasingly right-wing forces consolidated their grip on power during the 1920s. Stability was secured in both parts of the island through crushing non-sectarian (including republican) voices.
The South, however, was more conservative than it was sectarian and incorporated Protestant business and political interests. The North was simply sectarian, imperialist and right-wing. Its politicians, civil servants and police spent their time outing thousands of Catholics in public employment, including a gardener at Stormont who had served in the British forces and had a reference from the Prince of Wales. The Northern regime collapsed under the weight of its own contradictions in 1968. In the South, alternative left-wing, liberal and republican voices found space to reform some, but not all, lingering imperial and confessional elements of Southern society.
It was near the end of the period of political uncertainly and growing instability between the Treaty split in January and Civil War in June 1922 that the April killings, the subject of the RTÉ programme, occurred. All shades of Southern opinion – Free State, republican, trade union, labour and religious – united immediately without hesitation to condemn them. Whether the killings were sectarian or were aimed at loyalists formerly active with the Black and Tans, they breached the terms of the July 1921 Irish-British truce. The IRA in west Cork put armed guards on other loyalists thought to be vulnerable and this appeared to put an end to the killings.

PROTESTANT DIVISIONS

The killings were a political godsend to unionists who had been claiming comparative justification for sectarian violence in the North. Such was the hypocrisy of Edward Carson's statements in the House of Commons that even British ministers were moved to suggest that Carson turn his attention away from west Cork and back to Belfast, where his supporters were daily doing what Carson claimed was happening down south.
The April killings and the Belfast pogroms also revealed a most significant feature, the deep divide between Northern and Southern Protestant opinion. Since the onset of the June 1920 anti-Catholic pogrom in the North, Southern Protestants, including unionists, denounced in forthright terms the claims of Carson, Craig and other Northern unionists that Protestants were under attack in the south and west. They did so publicly without equivocation. However, these almost-daily declarations contradicted a central tenet of British propaganda, that the conflict was sectarian rather than democratic and anti-imperialist.
One unionist businessman in Bantry, a Mr Biggs, denounced Carson and the notion that Protestants were under threat in The Irish Times in June 1920. The RIC burned his substantial business premises three days later. This was commented on by Glengarrif resident J. Annan Bryce, brother of a former British colonial secretary to Ireland, in a series of highly effective letters to the London Times from September to November 1920 (these are available online). Annan Bryce's letters also related how his wife, who was due to speak on British atrocities in Wales, was arrested onboard ship and deported back to Ireland. His view was typical of Southern Protestant opinion.
If that was prior to the 1922 April killings, after them, on 11 May 1922, a representative Protestant Convention packed out Dublin's Mansion House. The convention declared that, apart from the April killings, hostility to the Southern Protestant minority was almost unknown. The killings were regarded by all, including the then unionist Irish Times, as exceptional. The Times also pointedly suggested that Sir Henry Wilson could make a contribution to peace by keeping his mouth shut. At the convention, Protestants – unionist, nationalist and republican – united to condemn the sectarian attacks carried out in the name of their religion in the North. The most that could be said initially was that the west Cork April killings might be the start of a reaction to Northern attacks. They were not even that.

AN IMPROVEMENT
RTÉ's CSÍ programme was interpreted subsequently by partisan voices seeking to paint Southern society as at least as bad, if not worse, than the Northern version. This might be considered a difficult task, considering the weight of evidence. It can be made easier by ignoring evidence.
The short RTÉ programme had a somewhat lurid title, Cork's Bloody Secret, but the actual content considered the issues raised here.
The opening sequence saw a local Cork historian from a Protestant background, Donald Woods, state that the victims were not shot because of their religion. They seemed, he said, to have been on "some sort of black list". This is born out by Meda Ryan's 2003 biography of Tom Barry in which she revealed the existence of a captured British Auxiliary document listing 11 of the victims as "helpful citizens". Woods was followed by Eoghan Harris who said something sensible. He knew of no Protestant who claimed a relation had been shot because of their religion.
In The Irish Times, another programme contributor, Professor Emeritus of History in UCC John A. Murphy, criticised Harris for going on to claim that Protestants were driven from the Free State and for using terms like "ethnic cleansing". A few years ago, Professor Murphy was less polite. He termed such utterances "Paisleyite myth mongering". In The Irish Times in addition, UCC historian Andy Bielenberg, who is researching Protestant emigration, said Harris's claims have no evidential support.
In conclusion, in comparison to RTÉ's 2007 Hidden History documentary, The Killings at Coolacrease, this programme was overall more objective and less inclined to promote sectarian propaganda. 

 • Further reading: Autumn edition of the Dublin Review of Books, www.drb.ie, articles by Niall Meehan and also by Philip O'Connor and Pat Muldowney, both of which consider the RTÉ Coolacrease programme. See also Coolacrease (2008), by Paddy Heaney, Muldowney, O'Conner, et al, and Troubled History (2008) by Brian Murphy and Niall Meehan.