24 September 2009 Edition
Sinn Féin at National Ploughing Championships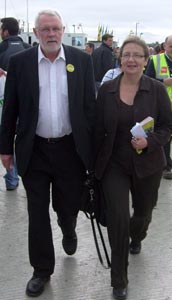 Ferris highlights 'huge level of anger' in rural Ireland
At the Ploughing Championships in Athy on Wednesday Sinn Féin Agriculture and Rural Development spokesperson Martin Ferris TD launched a report on the future of farming and fishing in the West of Ireland which he says highlights a "huge level of anger" around the country.
The 60-page report, which has been endorsed by the Oireachtas All-Party Committee on Agriculture, Fisheries and Food, details the plight of farmers, fishermen and rural communities and calls for recently announced cuts to the sector to be reversed. It also calls for a complete reform of the Common Fisheries Policy.
Speaking at the launch Ferris said he was delighted to have been able to present the report to the Oireachtas All-Party Committee and to have received endorsement for the range of measures outlined in it that he believes are necessary to secure the sectors future. He said:
"This report is the fruit of much work in consultation with a wide range of people involved in the farming and fishing sector. As such it represents an accurate picture of both the current state of the rural economy,  particularly in the West, and of the sort of strategies needed to move us forward.
"I think that is particularly important in the context of the current economic situation and the opportunities as well as the problems facing farming and fishing. Indeed one of the key themes running through the submission that forms the basis for the report and its recommendations is that there is major scope to place more emphasis on the indigenous rural economy."
The Kerry North TD also pointed out that although the report was extremely critical of Government policy and indeed the overall manner in which both farming and fishing have been treated, the Government majority on the Committee did not oppose anything in the report. He said:
"I believe this represents a keen understanding, especially on the part of the Fianna Fáil members of the Committee, that there is a huge level of anger around the country regarding the plight of farmers,  fishermen and rural communities in general."
Deputy Ferris concluded by saying he hoped the report and its recommendations would "form the basis for a wider debate within rural Ireland that will engage with everyone involved to frame a future strategy for the rural economy."
While the report contains an overview of current state of the sector it also has number of specific recommendations some of which are listed below and a survey on Farmers' Outlook for the Future.
Some of the main recommendations:
Defend Single Farm Payment (SFP) against any attempt to undermine it through World Trade Organisation
Abolition of SFP for large businesses not directly involved in farming
Full payment of SFP each October
One week's notice for all farm inspections
Retention of milk quota
Incorporation of water preservation measures into REPS
Promotion of traditional cattle and sheep breeds
Increase national energy crop grant to €125 per hectare
Promote community based wind energy projects
Maintain ban on Brazilian meat imports
Full country of origin labelling for all beef and lamb products
Encourage provision of local food outlets
Revoke cuts to Suckler Welfare Scheme and Disadvantaged Area Payments
Renegotiation of the Common Fisheries Policy
Introduction of Administrative sanctions for fisheries offences
Country of origin labelling for all fish products
Measures to address the issue of fish discard
Increase in quota in proportion to share of fishing waters
• The full report can be accessed online at www.sinnfein.ie
Minister Michelle Gildernew, Anna May McHugh, managing director of the National Ploughing Association and Bairbre de Brún MEP at the National Ploughing Championships