17 September 2009 Edition
Where was the Fine Gael 'good bank' proposal in 1984?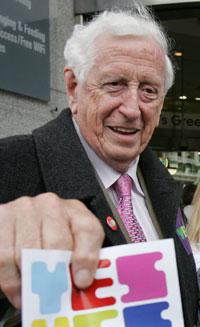 BY ROBBIE SMYTH
SO WHAT would Fine Gael and Labour do in power? Will there really be a 'good bank' policy from Fine Gael in government that can save the economy? And what about former Fine Gael leader Garret FitzGerald's trenchant support of the NAMA proposals; how do we assess his bona fides?
A quick trip through the last two periods of Fine Gael and Labour in office throws up a starkly contrasting party machine in power from the earnest activists in opposition. In particular, the actions of Garret FitzGerald as Taoiseach in the 1982 to 1987 period show a very different reality of Fine Gael.
The examples of the collapse of Insurance Corporation of Ireland and the bail-out of an insolvent AIB in 1984 and the slow death of Irish Shipping the same year alongside the bail-out of Bewleys' Cafés in 1986 all show a coalition without a coherent economic policy and, in the case of AIB, an unwavering support for the banking sector regardless of its failures.
GARRET'S AIB LOAN WRITE-OFF
Then there is the question of how do we assess the decision of AIB and Ansbacher banks in 1993 to write-off a £200,000 loan owed by Garret FitzGerald to the bank, a fact not revealed until 1999.
It was the Moriarty Tribunal investigating payments to politicians that revealed the FitzGerald AIB write-off rather than 'Garret the Good' coming clean on the matter, despite having a weekly column in The Irish Times to deal with any topic that catches his interest.
FitzGerald has a controversial history with AIB.
In 1984, a misplanned investment in Insurance Corporation of Ireland (ICI) threatened to overwhelm the bank as ICI's debts of over £100 million could not be met by AIB. Then Fine Gael and Labour could have nationalised AIB overnight, but they chose not to. There was little talk from Labour in government at the time at their missed chance to nationalise a bank; now in opposition, they favour temporary nationalisation.
IRISH SHIPPING SUNK
On St Patrick's Day in 1984, FitzGerald, along with Finance Minister Alan Dukes (another NAMA supporter who, like FitzGerald, came out of the closet recently), bought the massively-indebted ICI from AIB for £1, rushing legislation through Leinster House, freeing the bank of any debt but burdening the taxpayer at a time when Government debt was higher than GNP, a point we haven't reached in the current economic downturn.
However, there would be no bail-out in the same year for Irish Shipping. It cost the state £101 million to liquidate the firm. FitzGerald's government paid the minimum redundancy to the 273 workers who lost their jobs, while not one AIB executive was sacked for the AIB crisis, and in the intervening decades wages and working conditions of Irish seafarers working in the merchant fleets serving our economic boom years deteriorated year by year.
Two years later, few would have disputed the covering of Bewleys' £1 million losses but it seemed that the Government could pick and choose, without rational reasons, who would be saved and who wouldn't.
So there is not much difference between FitzGerald and Dukes in 1984 and Cowen and Lenihan today. Irish banks will be saved at all costs, Irish business will be allowed sink. Is Aer Lingus the Irish Shipping of the noughties?