17 September 2009 Edition
The Cushendall Three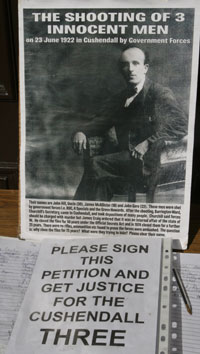 IN 1922 the RUC shot dead three nationalists in the North Antrim town of Cushendall. Many locals believe the killings were carried out in retaliation for the IRA execution of British cabinet Minister Sir Henry Wilson and have tried to uncover the facts of the case for years.
One of those who campaigned for the truth was Donegal man James McAlister. Sadly James passed away earlier this month, before his quest was finished.
Another of those involved in the campaign to find out why the RUC murdered three unarmed nationalists is Belfast man CHARLIE HILL, here he talks to ÁINE CARSON about his friend James and their struggle for justice for the Cushendall Three.

BY ÁINE CARSON

WEST Belfast man Charlie Hill wants to pay tribute to the friend he met when seeking answers into the deaths of three men in Cushendall in 1922. Donegal Town man James McAllister (65) died recently after losing his battle with terminal cancer. Charlie said: "James was a brilliant fella.  He was a taxi driver and would have got up at any hour of the night to pick up a fare.  The first time I went up to visit him, I didn't know where he lived.  All I had to do was stop in Donegal Town and ask for him and everyone knew him.  He was that kind of guy.   When he deteriorated, his get well card had hundreds of signatures, the whole town signed it."
Charlie says: "I met James 10 years ago.  We were both researching the deaths of our family members and became the best of friends.
"My uncle John Hill, James' uncle Seamus McAllister and another man called John Gore were shot dead by the RUC in the County Antrim town of Cushendall in 1922. The night before they were shot, Sir Henry Wilson was shot dead outside his London home. 
Because of this, the RUC and A-Specials were on the warpath."
Seamus McAllister (18), an unarmed Óglaigh na hÉireann member was accosted by the RUC in Glenariff, County Antrim asking if he was the one that shot Henry Wilson. 
"He was arrested and put in the back of a tender. That same night in Cushendall, John Gore (22) was chosen at random by the same RUC men.  He hid behind the counter of Annie McGonnells butchers shop to escape them.

RUC SHOOTING SPREE
"The RUC went behind the counter and shot him dead.  Continuing their shooting spree, they went through to the kitchen of Annie McGonnell's house. Here they found my uncle John Hill (30) and asked him if he was a Sinn Féiner.  My uncle replied no he wasn't.  They then asked if he was the bastard that shot Henry Wilson."
"All three men were found dead in the alleyway behind Annie McGonnell's shop.
Arrested man Seamus McAllister was shot through the mouth, John Hill, twice in the back and John Gore on the upper body."
British barrister and  former Times editor, Robert Barrington-Ward was sent over to Ireland to investigate the deaths.
Witness Annie McGonnell sadly ended up in and out of mental institutions for the rest of her life.  Because of her mental state, her evidence was unreliable.
The Justice of the Peace gave evidence that he heard Seamus McAllister being trailed down Shore Road in Cushendall crying 'please don't shoot me'. 
In a letter to James Craig, the first Prime Minister of the new Northern state, Barrington-Ward said those responsible for the men's deaths should be charged with murder. 
Continuing the story, Charlie Hill said: "Using the Official Secrets Act, Craig put 75 years on the papers, meaning they couldn't be released until 1997.  So we went in 1997 to get the papers and another 50 years was slapped on them by the government.
"In the end we got a secret document from the Public Records office and found that the statement given to the judge in 1922 wasn't signed or dated or anything.
"It said that the RUC were fired at from five yards by up to 20 IRA men using revolvers.  Yet no RUC men or A-Specials died that day. 
"The only bullet marks in Cushendall are the ones in the alley where our family members died.
In this day and age a statement like that wouldn't stand in a courtroom."

MEMORIES
Remembering his frequent conversations with James McAllister, Charlie said:
"James told me his father used to go up to Cushendall every year and say a rosary at the spot where his brother and the other innocent men were found murdered. 
"James knew he was dying but wanted to see the men's names cleared before he passed. I had no idea James would die so suddenly and I'm heart broken.  He was one of the best.  Mary Queen of the Gael pray for him."
The families of the Cushendall three set up a group to clear the names of their relatives.  
In the Belfast area, they have a petition that can be signed in the Roddy McCorley Club on the Glen Road, and Sarsfields GAC.
Charlie adds: "for the Stormont assembly in Belfast to take notice of the petition, there needs to be over 1000 hand written signatures. 
If anyone reading this owns a bar or shop, I would be grateful if you could make contact to put the petition in public view."
Charlie Hill can be contacted through [email protected]