20 August 2009 Edition
Pogrom of 1969 remembered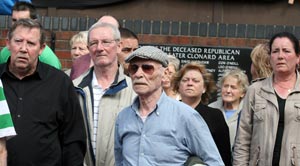 The pogroms of 1969 when loyalist mobs supported by RUC and B Specials attacked the homes of nationalists along the length of the Falls Road from Dover Street to Bombay Street were remembered last Sunday 16 August as up to 1,000 marchers took to the streets of West Belfast.
Led by a republican colour party the parade made its way up the Falls Road from Divis Tower, where 9 year old Patrick Rooney and Trooper Hugh McCabe were  shot by the RUC who opened fire indiscriminately on the flats complex with heavy Browning machine-guns.
Walking in the shadow of the so-called peaceline the march made its way past Clonard Monastery to the Garden of Remembrance at Bombay Street.
There a huge new mural depicting those fallen republicans from the Clonard area who were active in the struggle for national liberation was unveiled.

Veteran Republican Sean Murray, a native of the Clonard area, who fought in defence of the area, its people and the monastery – which was the target of loyalists arsonists in 1969 – delivered the main oration.
"Forty years ago this area was in a state of shock and disbelief at what had unfolded before our eyes. The pogroms were the Orange state's response to our demands for basic human and civil rights.
"But in 1969 – mindful of other inspirational events worldwide – a generation of nationalists decided not to lie down. The pogroms were a watershed moment in their lives.
"Our generation was conscious of the second class status conferred on our parents and grandparents by the state, but no longer would we, as a people, accept unionist discrimination and British indifference to our plight.
"The death knell of the Orange state was sounded and the bravery shown by the defenders of this area is our inspiration".
unveiled: New mural depicting the fallen republicans from the Clonard area