20 August 2009 Edition
Parades Commission Rasharkin decision 'madness'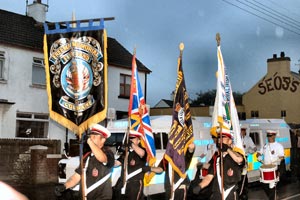 Residents of the North Antrim village of Rasharkin held a public meeting to express their anger at the decision of the North's Parades Commission to allow, unhindered, a loyalist parade through the village this Friday 21 August.
Speaking to An Phoblacht Sinn Féin Assembly member Daithí McKay slammed the Commission's decision as "utter madness".
Rasharkin, a 90% nationalist village, sees unwanted loyalist parades during the course of the so-called marching season and local people are angry that the Ballymaconnelly Sons of Conquerors Flute Band that applied for the parade are bringing 41 'kick the Pope' bands to Rasharkin.
An Phoblacht has been told that at least six bands taking part in Friday's parade have loyalist paramilitary links while members of the Pride of the Bann and Freeman Memorial band are currently facing charges in connection with the sectarian murder of Kevin McDaid in Coleraine.
Furthermore last year's corresponding march saw loyalists attack nationalist residents leaving a 14 year old girl with a broken nose after she was punched in the face.
Sean Murray, chair of Sinn Féin Cúige Uladh, was invited to last Thursday's meeting which was convened by the Rasharkin Residents Association. Afterwards he spoke to An Phoblacht.
According to Murray the meeting was "an honest attempt to give local residents an opportunity to address their fears and concerns with regard to the forthcoming Ballymaconnelly band parade.  
"Moreover, it was also an opportunity for the Parades Commission to outline their rationale for facilitating a band parade consisting of 41 bands, a number of which have Loyalist paramilitary connections.
"A good cross section of local residents, young and old, male and female including representatives from local businesses strongly articulated their views in relation to this parade", said Murray.  
The people of Rasharkin are also angry that the Parades Commission have ignored the fact that the loyalist parade organisers refuse to talk to the residents and effectively condone their behaviour by allowing the parade to go ahead with no restrictions.
Said Murray:
"On the other hand the residents' protest has been limited to 130, including stewards, and they must remain static at all times until the return parade has dispersed.
"This clearly reflects a blatant absence of proportionality in terms of how the Parades Commission deals with this highly contentious parade and related protest."
Describing the Parades Commission as "inept", Murray, who sits on the Strategic Review of Parading Body, said:
"In all of the meetings that I have attended with various Parades Commissions over the years this was clearly the least productive. I have never witnessed such an inept, clueless performance by a body tasked with such an important remit. It was obvious that they hadn't done any preparatory work by way of devising a rationale or outlining options for the residents, suggesting a degree of arrogance and indifference.
"The Parades Commission has lost its way and is at risk of further losing the confidence of the community", warned Murray.
O'Loan attempt to lecture Rasharkin residents 'insulting'
North Antrim Sinn Féin MLA Daithí McKay has said that the SDLP's Declan O'Loan has absolutely no right to tell residents in Rasharkin that they should not protest at a 41-band loyalist parade through the village next Friday night. Daithí McKay said:
"Declan O'Loan has criticised me for drawing attention to the contentious nature of the Ballymaconnolly parade. It is unfortunate that he hasn't spoken to either the 100-plus residents who spoke at the public meeting here on Thursday night or the majority of people here who oppose this parade. He is letting the DUP pull his strings. What he should be doing is listening to the residents and the businesspeople in Rasharkin. They want this parade stopped as it is affecting their families, their businesses and their community.
"Putting your head down will not make this problem go away. What is required is leadership and I would urge him to stand up for the right of people to live here free of sectarian harassment rather than undermining them.
"Mr O'Loan's theory that everything will be okay in Rasharkin if residents put their heads down, stayed indoors or went away for the evening is nonsense. The fact of the matter is that the residents here have achieved legally binding determinations on all contentious parades here for the first time because they put their head above the parapet and refused to bow down to loyalist intimidation. Progress is being made because people are standing up for their rights. Protests in recent years have achieved this.
"Residents here are willing to engage in dialogue with parade organisers and have been continuously snubbed and insulted. That is what is at the core of the problem, a lack of mutual respect.
"The SDLP's personal attack on me is merely a smokescreen for the fact that they are not relevant when it comes to the issue of parades in Rasharkin and they have no strategy or notion of how to resolve it. Sinn Féin will continue to be pro-active in opposing sectarianism of any sort in this area. Declan O'Loan should apologise for what he has said and recognise that it is not residents protesting which is raising tensions here at this moment in time it is the fact that a band is inviting thousands of loyalists, many with strong associations with the UDA and UVF, to march through this village."