20 August 2009 Edition
2009 National Hunger Strike Commemoration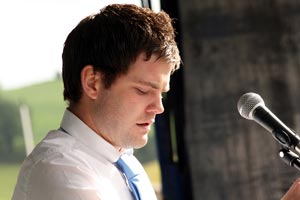 What compels young men to die?  
This poem was written by hunger strike martyr Martin Hurson at Easter 1981 and was read by Liam Nugent at the National Hunger Strike commemoration last Sunday in Martin's native Galbally, County Tyrone.
What compels young men to die
A death so long and cruel
To suffer years of pain and shame
in solitary in jails?

I speak of men like Hughes and Sands, O'Hara and McCreesh
Laying in the blocks of hell where brutality is released.
Untold pain, heartaches, restless lonely nights
Where men find strength within their hearts, to stand for what is right.

Oppression equals slavery and resistance stems from both
And those who fight to end it are soldiers of the truth.

No matter if they recognise the truth in here or not
The products of these years of pain upon them they have brought
This Hunger Strike where young men die not for glory, not for gain
but for recognition of the wars raging through our land.

Lying in their beds this night just bones and clinging flesh
Pale and ashen, cold and worn in the H-Blocks of Long Kesh
They are dying for the people's cause, not their own or foreign greed
They'll die if you don't help them, in this, their hour of need.

By Martin Hurson 
Bobby Sands – The people's MP
Sile Darragh, Michelle Gildernew, Mary Doyle, Danny Morrison, Stan Corrigan and Francie Molloy re-enacting the handing in of H Block Hunger Striker Bobby Sands' nomination papers

Hunger Strike Panel Discussion
Mary Doyle, Danny Morrison, Chair Michelle Gildernew MP MLA, Francie Molloy MLA and Sile Darragh in Bank Hotel, Dungannon on Saturday Night

Dungannon Torchlight Procession

Friday night saw a well-attended Black Flag and Torchlight Procession in Dungannon, Tyrone. The main speaker was Michelle Gildernew.