20 August 2009 Edition
Support for Irish unity in Chicago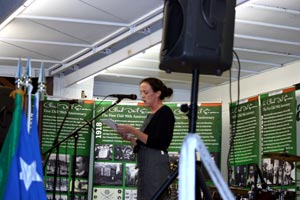 Sinn FÉIN Councillor and Chair of Moyle Council, Cara McShane, welcomed the continued support of Irish Americans for Irish unity and independence during a recent series of engagements in Chicago where she updated people on the progress of the Irish peace process.
 She said the US connection to Irish republicanism has always been a critical element of our strategy to achieve our objectives. "It is as critical today as it has been in the past. In fact, it has become more critical as we continue to map out a way forward to the eventual reunification of Ireland," she told her Chicago audience. She said:
"The development of our strategy has, in recent years, transformed the political landscape in Ireland. It has brought with it many challenges, sometimes much frustration but significant and measurable gains. But from a republican perspective it is important to emphasise that we are still short of our goals. We are, we believe, on the right road, but we have some distance to journey yet before the realisation of the Irish Republic that generations of Irish republicans in Ireland, here in the US and elsewhere have struggled and sacrificed so much for."
Cllr. Mc Shane went on to address the different political players in the process:
"Our agenda has brought difficulties for unionism. Many within the Unionist leadership have difficulty dealing with change. Many know that the material rationale for the British connection – privilege for the unionist elite – disappears with the progression of the equality agenda. They know too that some of their political leaders are now in a place they do not want to be; they are sharing power and they are sharing power with republicans, with nationalists, they are in the All-Ireland Ministerial Council. They know the process of progressive change is moving across all the institutions of the state – and this includes policing. Proper, fair and independent policing is an entitlement and a right. We have begun the process of holding policing to account. Like the other manifestations of change this too, will move slowly and meet with resistance. But our job is to be patient, to keep our eye on the prize.
"And all of this has posed difficulties for some nationalists. Some oppose our strategy. We have sought to engage with them. We have challenged them publicly and privately – there can be no room for ambiguity, no room for confusion. The way forward is a political way. Whatever the doubts some may have had initially they have no excuse for doubts now. Our strategy is bringing change and our strategy has the support of the vast majority of the nationalist community.
"Our strategy and that of everyone else was up for judgement in the recent elections in the North. Sinn Féin emerged from that election with an overwhelming endorsement. Our candidate  – Bairbre de Brún topped the poll. For the first time since partition Sinn Féin emerged as the strongest party.
There will be difficulties ahead, change brings difficulties. But there can be no lingering doubt that change will continue to come. And importantly – and for me anyway, the most important message from Sinn Féin to our friends and supporters here in the US is that the process of change will not happen of its own accord. It must be championed, pursued, pushed, driven and shaped consistent with the type of Ireland which we espouse – an Ireland of Equals.
"Towards that end Sinn Féin has recently launched a renewed approach to build support for Irish reunification both inside and outside of Ireland. We believe that the broadening of support for and the building of the demand for Irish unity will again transform the political landscape in Ireland. With your help, with your support and with your determination we can take giant leaps towards our republican objectives. We believe that this generation of Irish republicans – in Ireland, and here in the United States, and elsewhere will, if we work hard and work together, can realise the dream of those who have gone before us and who have given so much. We can bring about the Irish Republic."