23 July 2009 Edition
O'Dowd concern after PSNI shoot man in stolen car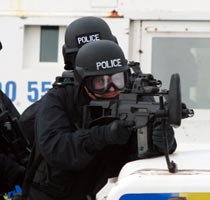 SINN FÉIN Assembly member for Upper Bann John O'Dowd has expressed serious concerns after the PSNI shot the occupant of a stolen range rover in Gilford on Friday night/Saturday morning 18 July. It is reported that the range rover was stolen from a house in Craigavon.
Speaking last Saturday O'Dowd said:
"The exact circumstances of what happened in the early hours of this morning are not yet clear. What seems to have been established is that a range rover was stolen from a house in Craigavon after its occupants were threatened and sometime after that the PSNI shot and injured a man who crashed the stolen vehicle and was running from the scene.
"This individual was clearly involved in criminality and we must also bear in mind the distress of the family he threatened. However this is in our view a reckless use of firearms. It is completely unacceptable for the PSNI to fire live rounds in what was essentially a stolen car incident. This incident happened in daylight hours. There are numerous other non-lethal options available to stop stolen cars and indeed apprehend unarmed people running from a situation like this.
"This incident clearly could have resulted in the death of the driver of the range rover and it is now important that the Police Ombudsman begins his investigation and completes it speedily in an open and transparent way."