23 July 2009 Edition
UDA magazine 'an incitement to murder'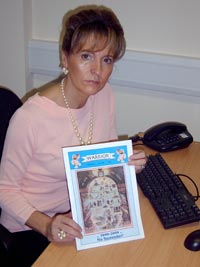 A MEMBER of the North's Policing Board, Foyle Sinn Féin MLA Martina Anderson, is calling on the PSNI to investigate under incitement legislation a Derry UDA magazine which she branded "a blatant and sinister incitement to hatred".
"I have been given a copy of the UDA magazine, Warrior, by a concerned constituent after it was distributed in mixed areas of the Waterside this week," Martina Anderson said.
 "This is a magazine which is produced to promote the UDA in Derry and north Antrim and it gives a worrying insight into the mindset of that organisation.
"As well as the racist and sectarian rants that we have unfortunately come to expect from the UDA – including what can only be described as a party political broadcast for the BNP - it also makes a number of implied threats against named individuals.
"It contains a sickening defence of the murder of Kevin McDaid in Coleraine and makes a number of wild and unsubstantiated allegations against the McDaid family and the wider Catholic Community in Coleraine. Of great concern to me is the fact that it also printed a photograph of Kevin McDaid's son with an arrow identifying him. That is clearly sinister and should be investigated by the police."
The Foyle Sinn Féin MLA said that the UDA magazine also glorifies the intimidation which forced Romanian families out of south Belfast as well as launching into a vitriolic attack on south Belfast MLA Anna Lo.
"While I will not repeat the vile statements contained in this publication, Anna has already been told of a death threat against her and I believe they represent a clear incitement and should be treated seriously.
"The magazine even laments the fact that former Beirut hostage Brian Keenan was not murdered by his captors. Again, the language used is too offensive for me to repeat.
"We are well aware of tensions within the UDA and this magazine seems to confirm that by attacking their Belfast counterparts over the recent decision to put some weapons beyond use.
"This publication is a blatant incitement to hatred and even murder. It should not be distributed anywhere, particularly as it is coming from a criminal gang like the UDA, who continue to engage in drug dealing as well as racist and sectarian attacks.
"I have submitted a copy of this magazine to the PSNI who are now investigating it and I will be insisting that all possible steps are taken to put it out of circulation and to take action against anyone selling or distributing it."