23 July 2009 Edition
As axe falls on Monaghan Hospital, Ó Caoláin pledges 'fight is not over'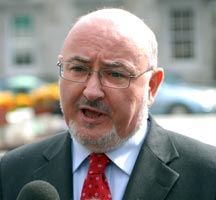 SINN FÉIN Dáil leader and Health & Children spokesperson Caoimhghín Ó Caoláin described Wednesday 22 July 2009 as a terrible day for public health services as the axe finally fell on all acute medical services at Monaghan General Hospital, the blueprint for the removal of services from similar hospitals across the state.
Speaking on Tuesday, ahead of Wednesday evening's vigil  by the County Monaghan community at the gates of Monaghan General Hospital, which the Sinn Féin TD addressed, Ó Caoláin said:
"From 22 July, lives will be at risk day and night because Monaghan General Hospital will lose vital services, including accident and emergency services and in-patient medical care. Lives were lost when Monaghan General Hospital was 'off-call' for emergencies in the past and now another fatal date has been reached."
The Cavan/Monaghan TD reiterated that, on average, some 3,000 patients per annum have received in-patient care at Monaghan and will now have to go primarily to Cavan General Hospital, a hospital that is already working at full stretch and beyond. Not a single additional in-patient bed is to be provided at Cavan. Patients  will also have to go to the Lourdes Hospital in Drogheda, another centre that is "bursting at the seams", he said.
consequences
This an issue with consequences for hospitals across the state, he pointed out.
"Monaghan is the blueprint for the Fianna Fáil/Green Party Government's policy of slashing services in local hospitals and what they are doing to Monaghan they plan to do to other hospitals in Dundalk, Navan, Nenagh, Ennis, Tralee and Cork, with still others likely to follow.
"I have been reliably informed from within the HSE that the Taoiseach Brian Cowen and Minister for Health & Children Mary Harney were closely involved in the final decision to axe these services at Monaghan.
"They were signalled by the HSE to go in November 2008, then at the start of this year, then in the early summer. They were postponed until after polling day in the local and European elections. And now, conveniently for the Government, the closure comes just after the Dáil goes into recess.
"This flies in the face of all appeals from across the community and from frontline healthcare workers, including nurses, GPs, consultants and support staff."
ADDING INSULT TO INJURY
Ó Caoláin said that the removal of these services is made more perilous for patients in the context of the ongoing cuts in the health services and those threatened in the McCarthy Report. The comprehensive range of primary care services, including 'home-care packages' for older people has not been put in place. Ambulance provision is not adequate.
"Under McCarthy's plan, even the limited home-care packages available would be means-tested, adding insult to injury, especially as Health Minister Harney and the HSE have presented such packages as substitutes for in-patient hospital care which is supposed to be free to all.
"I commend the stalwart people of County Monaghan who have stood by their hospital over many years and who will continue to stand by it, and for the excellent staff of the hospital.
"We have opposed this move, not as our opponents try to suggest on grounds of sentimentality or to wear a county jersey or for narrow party political reasons but because it is a vital facility for the safe delivery of healthcare services for the people of the Border region and for those who pass through it.
"We pledge that this fight is not over."