23 July 2009 Edition
Fianna Fáil and Greens using McCarthy report to deflect their failures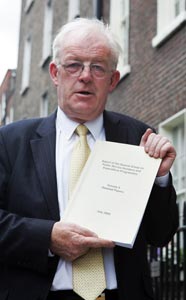 Poor, sick and old suffer most from Bord Snip proposals

BY ROBBIE SMYTH

CUTS in social welfare payments, health services, higher medical care costs, fewer gardaí on the streets, half of rural Garda stations closed, fewer teachers, 1,000 less schools in rural Ireland, less public transport, more expensive school buses in rural areas, the end of any strategy for rural and regional development in Ireland, less local democracy.
These are just some of the possible outcomes that could drastically change the social landscape in Ireland for the worse if the proposals unveiled in the publication of the reports of the Special Group on Public Service Numbers and Expenditure Programmes ('An Bord Snip Nua') are implemented in Budget 2010.
There is, though, still billions of euro available to bail out Irish banks, particularly Anglo Irish Bank, the ailing haven of bankrupt property speculators, which will get €4 billion of taxpayers' money.
It comes as no surprise that An Bord Snip Nua failed to produce a coherent, viable strategy for reforming public sector spending. What was a surprise (despite the still unexplained three weeks of systematic leaks) was the sheer scale of their failure.
A €5.3 billion annual cuts package that focuses on reducing services for and living standards of the most vulnerable in Irish society is inexplicable and unjustifiable. A cuts package that will penalise hundreds of thousands of people who played no part in the decisions and policies that brought the Irish economy to the depths of such a crisis that has destroyed not just the banking system but the property and pension values of tens of thousands of families also is not acceptable.
It is a sad world of dangerous contradictions where a government can justify investing €4 billion in a private sector bank whose customers are among the most wealthy in Ireland and propose at the same time to cut the weekly social welfare payments of the lowest-income groups, the most economically deprived and poor in Irish society. Yet that is the reality of the Bord Snip proposals.
However, the Bord Snip report, which runs to two volumes, has given the Irish public an insight into how the Irish Government spends our tax euros and, most importantly, who really controls the vital link between a government's policies and political decisions and the allocation of funds to make those policies and choices a reality on the ground.
For example, the report's authors write that during their survey of Government spending, each department submitted an evaluation paper which outlined "what Exchequer money they received, what outputs and public services impacts were produced with this expenditure" as well as "possible options for reductions in numbers and programme expenditure".
It is vital that these papers are now published as they can give a valuable insight into how the unelected public service senior management implements political decisions.
Another revelation in the report is that the Department of Finance has a Central Expenditure Evaluation Unit (CEEU) that plays a key role in deliberating on Government spending. The members of this group should be invited to appear before Oireachtas finance and public accounts committees. Its evaluation process should be made public.

MORE TRANSPARENCY NEEDED
If there was only one positive conclusion to be drawn from the Special Group's report it would be that we need as a society a lot more transparency in the workings of our public service and the link between ministerial decisions and the actions individual departments take to put those political decisions into effect.
This highlights too, the core weaknesses of the report. It views Government spending from an accounting standpoint and little time is given to consider the pre-existing social and economic inequalities that pervade modern Irish society.
For example, the authors assert:
"It is a simple fact that many long-established and sensitive expenditure programmes, including those in the social welfare area, are among the most costly to the Exchequer, and it will not be possible to insulate these areas from review."
The authors do not give any detailed analysis as to why the most marginal in society should not be insulated in the downturn and instead use criteria that merely seems to be based on the principle of short-term simplistic cuts overlooking at times the more difficult options that need urgent action and could save costs.
For instance, it was revealed just two weeks ago that €30 million is being spent paying private sector IT firms to maintain Garda computer networks. This is not dealt with in the Bord Snip report's justice saving measures.
Then they do propose reducing the number of staff in the Irish Naturalisation and Immigration Service (INIS), saving €10 million annually, but also propose transferring responsibility for immigration control to the INIS, saving €1 million and also abolishing the Office of the Minister for Integration, so ignoring the social reality that Irish society must accommodate and integrate the 'New Irish' and this must be Government-led. But it seems that An Bord Snip has decided we don't need an immigration policy in the 26 Counties.
Also not needed, according to the authors, is a policy or structures to deal with rural underdevelopment and the need to invest in the west and north-west of Ireland. So we don't need Shannon Development, a Western Development Commission, county enterprise boards and Údarás na Gaeltachta.
But we do need to centralise the small slivers of regional spending allowed to the west of Ireland back into Dublin-based and Dublin-focused Government departments.

SAVAGE EDUCATION CUTS
The proposed cuts in education spending can only be described as savage.
Waiting lists to see Department of Education psychologists are already long and many children with special needs lose vital years of schooling because they have no access to an adequate educational psychological service.
An Bord Snip failed to recognise that this service is running on empty and wants to make a €1.4 million cut. It doesn't seem like a lot of money but it is damaging children's potential and that basic right to an equality of opportunity. Falling behind in primary school substantially lessens a child's ability to progress through the second-level cycle and have even a remote chance of progressing to third level.
Also proposed is cutting €60 million from the budget for special needs assistants in primary schools, people who are on the frontline of delivering some sort of educational equality.
We also don't need English-language support teachers and €21 million can be saved here. Capitation grants are also being cut when an Irish Primary Principals Network reported that 74% of schools are already asking parents to fund their children's school.
They do propose shaving €25 million from the support for fee-paying schools. More than €100 million was spent by the Government on fee-paying schools in 2008 according to the TUI. Abolishing this payment in total would mean no cuts in educational psychological services, special needs assistants, English-language support teachers and no reduction of capitation in primary-level schools.
At a time when the need for increased investment in supporting innovation and research and development has never been more important and Irish spending in these areas is weak and significantly behind the EU and OECD average, Bord Snip proposes €37.5 million in cuts.
No mention in the report of the millions lost each year renting prefabs because there are not enough classrooms. Savings could be made here but it is not mentioned in the report.
When it comes to Enterprise, Trade and Employment we don't need Shannon Development which is not a serious drain on Government resources and is almost self-financing. Its assets are to be split up and given to the IDA and Enterprise Ireland.
It does make sense to rationalise the overseas offices of the IDA and Enterprise Ireland but only touched on in the report is FÁS, the effectiveness of which has been seriously questioned over the last year, yet with a budget running into the hundreds of millions its operations are barely tackled here. Why? There is an urgent need to evaluate the work of FÁS but it is not dealt with in this report. Again, the authors seem to have dodged the hard questions.
Part of the reason for the dodging of the hard questions and the piling up of soft options such as cutting the dole, rent allowance, child benefit is found in the make-up of the group chosen by the Fianna Fáil-led Government. They are a snapshot of the representatives of corporate Ireland. Maurice O'Connell comes from the Central Bank where the DIRT scandal of unpaid taxes and illegal offshore banks accounts mushroomed into hundreds of millions of euro defrauded from the Exchequer.
Pat McLoughlin was a former deputy chief executive of the Health Service Executive, a body not known for its prudent spending of public money.
The winners with this report are not just the wealthy elite who can buy healthcare and education for their children and own multiple cars so they don't have to wait on buses to work or school. The real winners are Fianna Fáil and the Greens who have created an excellent smokescreen and will no doubt spend the coming months using a Bart Simpson-like defence of justifying spending cutbacks with the simple assertion that it was either already in the report or that their cutbacks are not as harsh as that proposed by the expenditure review group.
It is still the politics of failure and will only prolong the economic downturn, not lift the economy back to a sustainable long-term activity level. A year into the recession we have had three banking bail-out initiatives with a fourth to follow, three rounds of spending cutbacks with a fourth to follow but still the economy is crying out for just one economic development strategy.
 Bord Snip: The 20 most contentious proposals
Organisational
•    Department of Community, Rural and Gaeltacht Affairs should be closed down
•    Department of Arts, Sports and Tourism should be "critically examined".
•    County and City Enterprise Boards, the Business Innovation Centres, the Western Development Commission and the enterprise functions of Údarás na Gaeltachta, Shannon Development, Bord Iascaigh Mhara, LEADER and Teagasc, as well as sector-specific agencies such as the Irish Film Board, should be merged within a reconstituted Enterprise Ireland.

Justice
•    Rationalise the Garda stations network.

Agriculture, Fisheries and Food
•    Terminate the Suckler Cow Scheme
•    Close REPs 4 and stop any roll-over of participants of REPS 2 & 3.
•    Reduce annual expenditure on the Disadvantaged Area Compensatory Allowance Scheme by 30%.

Education and Science
•    Suspend additional recruitment to the National Education Psychological Service.
•    Reduce the number of special needs assistants and English-support teachers.
•    Reduction in capitation grants.
•    Reduce allocation to school transport.

Enterprise, Trade and Employment
•    Shut down Shannon Development.
•    Close county enterprise boards.

Community, Rural and Gaeltacht Affairs
•    Cut €73 million from community services spending.
•    Reduce allocations for island infrastructure.

Communication, Energy
and National Resources
•    Merge the Digital Hub Development Agency with Enterprise Ireland and the IDA.
•    Cut Sustainable Energy Ireland energy efficiency schemes by €40 million.

Social and Family Affairs
•    Reduce child benefit.
•    Higher eligibility conditions for Family Income Supplement.
•    Cut Rent Supplement.
•    5% cut in all social welfare rates.


Health and Children
•    Increase the threshold for the Drugs Payment Scheme.
•    Increase hospital charges.
•    Increase care costs for older people and introduce a means test for homecare packages.
Environment, Heritage
and Local Government
•    Reduce local government spending by €100 million.
•    End RAPID community development scheme.


Transport
•    Cease funding Rural Transport Scheme.
•    Privatise Bus Éireann's Expressway service
Bord Snip: What they said
"The recommendations of An Bord Snip Nua represent 'an exercise in fantasy'"
– Jack O'Connor, SIPTU General President.

"These cuts will effectively wipe out the viability of thousands of farm families living across the remotest parts of rural Ireland and confine them to the already overburdened dole queues"
– Pádraig Walshe, IFA President.

"The education of our children should not be compromised. They are the next generation of workers. Without a well-educated workforce in the decades ahead, our current difficulties will pale into insignificance"
– Larry Fleming, President, Irish Primary Principals' Network.

"All schools will suffer greatly as a result of these unacceptable recommendations"
- Ferdia Kelly, General Secretary JMB (body representing secondary school managers).

"Cutbacks on this scale will put Irish primary education back decades"
– John Carr, General Secretary, Irish National Teachers' Organisation (INTO).

"Sustainability will be determined not just by simply cutting back on spending and getting the sums right, but by optimising all spending in such a way that the overall objectives of an economy at the service of society can best be realised. Cutbacks should never lose sight of the long-term objective"
– Diarmuid Martin, Archbishop of Dublin.

"Profoundly undemocratic" and "short-sighted"
– Association of Municipal Authorities of Ireland (AMAI).

"What is so striking about the recommendations is how much the less-well-off in Irish society are being asked to pay for the failings of the Celtic Tiger"
– John Stewart, Co-ordinator, Irish National Organisation for the Unemployed.