18 June 2009 Edition
Sinn Féin meets GAA President at Stormont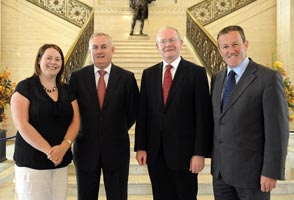 Sinn Féin MP for Newry and Armagh Conor Murphy met with Uachtarán of the GAA, Christy Cooney along with party colleagues Michelle Gildernew and Martin McGuinness on Monday in Stormont.
Rooney had travelled to parliament buildings for a 'meet and greet' along with outgoing president Nickey Brennan, Director-General Pauric Duffy; and Ulster Council officials, Danny Murphy and Tom Daly.
Speaking after the meeting Conor Murphy who is involved with his local GAA club Shane O'Neills said:
"Today's visit by the 'movers and shakers' of the GAA to Stormont is a particularly welcome occasion.
"The GAA plays a huge role in our local communities all over Ireland and is a positive force that is a particular focus for many families and children.
"It is important that leadership figures such as Christy Cooney meets with our Ministers so that we can discuss how best to promote the sport in the North."