18 June 2009 Edition
THE JULIA CARNEY COLUMN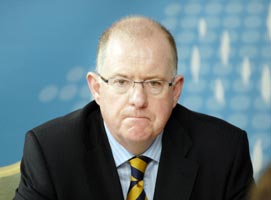 Out of their depth charges in the Corrib
MISSING the point completely this week – which, if nothing else, shows remarkable week-in, week-out consistency – is John Drennan of the Sunday Independent.
John revealed that the deployment of gardaí in Mayo to protect the dodgy Corrib gas project of one of the richest transnational corporations in the world has cost €12 million since 2006. The use of gardaí at Shannon to facilitate US troop transfers and suspected renditions flights also cost a few million.
In that same time period, Shell has reported combined profits of well over $70 billion. Last week, the company had to pay out $15.5 million to settle a lawsuit over the deaths of Ken Saro-Wiwa and eight other human rights activists. This story made front-page news around the world but not a word of it in John's article (subs' fault again, eh, John?).
Responding to the news, Fine Gael's spokesperson on Justice, Equality and Blithering Idiocy, Charlie Flanagan TD, attacked "self-interested protest groups whose self-indulgent activities are hindering the gardaí's fight against gangland crime".
Work with me on this.
Firstly, you have to love the 'self-interested' line. Men and women have gone to jail trying to stop a war taking place thousands of miles away for their personal gain. The Ploughshares Five and the Rossport Five are coining it, celebrities on a global scale, with Mícheál Ó Seighin's appearance on MTV Cribs last week eyewateringly ostentatious.
But the second bit is the best one.
Because of peaceful, non-violent political protest, the fight against gangland crime is being hampered. Every peaceful protester is enabling the drugs trade.
So, what's the solution? Well, in Charlie's world (and I suspect John Drennan's) we'd simply have no protests. Leaving us with the double whammy of incompetent journalists and rent-a-quote Opposition TDs to defend our rights.


STILL with the Sunday Independent, Jim Cusack weighs in on the sinking of the Iona Isle by persons unknown last week as confrontations escalate in Mayo. The boat belongs to Pat O'Donnell, a fisherman among the most committed of the anti-Shell protesters.
Jim observes that Pat's account can't be substantiated. He's right. It can't be. But Jim Cusack is the King of Unnamed Sources.
If Jim had been told by one of his Garda friends that Pat's boat had sunk because it was carrying biological weapons that were to be deployed by an Al-Qaeda cell working with the Shell to Sea campaign, he'd have printed it. And there would have been no reference to unsubstantiated claims.
Look at his recent article on the murder of Kieran McDaid where, as Phoenix magazine pointed out, he invented murders of Protestants in the late 1960s in an effort to justify it.
Jim says there's no explanation as to why Pat O'Donnell was out on the water. Pat's account of the incident, which Jim has obviously read as elsewhere he quotes from it, states clearly that Pat was out there because he was checking his lobster pots, which he's legally entitled to do. In journalism, Jim, we call that an 'explanation'.
He also claims that Shell (remember their profits) paid €20,000 to every trawler-owner in Mayo as compensation for disrupting their fishing. Actually, as he'd have known if he'd checked his facts, they didn't pay Pat because he refuses to accept the compensation. By including the information, though, Cusack implies that Pat O'Donnell has been paid off and has no business protesting.
Finally, Jim concludes with the claim that the project is employing 2,000 workers in Mayo. Shell itself claims that the most that will ever be employed on the project is less than 900. So either Jim plucked the number from thin air or he knows more about how many people Shell are employing in Mayo, directly or through contractors, than the company itself.
This is what happens when you send security correspondents to cover a story with political, economic, legal and environmental implications.
Put simply, Jim's just well out of his depth.


FINALLY, a note of grudging congratulations to Joe Higgins on taking the European Parliament seat in Dublin.
Obviously not my first choice but he was my second and I'd rather his principled opposition to Lisbon than Eoin Ryan's bumbling support for it.
Joe and his Socialist Party comrades might want to tone down the 'We will bring the Establishment to its knees' rhetoric, though, as it seems the Establishment's pretty relaxed with the result.
Paul Drury of the Irish Daily Mail, stronghold of radical democratic socialism that it is, voted for Joe and spent a full page in the paper last week explaining why. Garret FitzGerald wrote in the Irish Times of his disappointment that Eoin Ryan lost a seat but his relief that it was filled by Joe rather than by Mary Lou.
This isn't a bitter Shinner having a pop at Kerry's leading Trotskyist. I don't think anyone could question Joe's commitment or the passion with which he expresses his views. But he and his party are not a threat to the dominant political forces in Ireland. They're a valve, something that lets people express their anger without actually changing anything.
Like voting Fine Gael, come to think of it.

An Phoblacht Magazine
AN PHOBLACHT MAGAZINE:
Don't miss your chance to get the second edition of the 2019 magazine, published to coincide with Easter Week
This special edition which focuses on Irish Unity, features articles by Pearse Doherty, Dr Thomas Paul and Martina Anderson.
Pearse sets out the argument for an United Ireland Economy whilst Pat Sheehan makes the case for a universally free all-island health service.
Other articles include, 'Ceist teanga in Éirinn Aontaithe', 'Getting to a new Ireland' and 'Ireland 1918-22: The people's revolution'.