18 June 2009 Edition
If at first you don't succeed... stick at it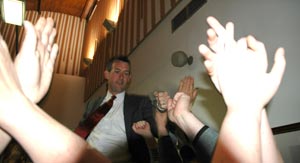 THE response to Sinn Féin's election performance last week varied from disappointment to delight, depending on the region you were looking at. While the results in the capital left people a little downbeat, the outcome nationally is another story and very significant inroads were made across the country. Aside from the not inconsiderable fact that Bairbre de Brún topped the poll in the EU election in the Six Counties, there were very significant gains in places like Munster. Look, for instance, at Limerick City, where MAURICE QUINLIVAN became the first Sinn Féin councillor since Paddy Mulcahy way back in 1955.
Maurice talks to ELLA O'DWYER about  the importance of that development and the work local activists put into developing the party base in the city before finally reaping results.
MAURICE Quinlivan came out from the 'induction meeting' for newly-elected councillors in Limerick last Thursday with a definite pep in his step. One clear message that emerges from my conversation with him is the value of persistence.
Limerick City Council is made up of Limerick City, East, North and South. "It was a great achievement for us in Sinn Féin to run so many candidates here in Limerick," Maurice says.
Tom Collopy ran in Limerick City East and Seán Griffin was the candidate in Limerick City South. Seamus Keating was in Castleconnell, Richard Young in Kilmallock and Mike Mac Domhnaill flew the flag in Newcastle.
Sinn Féin took 7.25% of the vote in the city and Maurice Quinlivan was elected on the 13th count. "The count went on till 3am in the morning. My family was there and party activists stayed till the final count."
Maurice wasn't that surprised that he took the seat.
"I wasn't worried. I knew I'd get the seat. We'd built our base and done the work on the ground. It's a tremendous breakthrough for us here in Limerick, especially when you consider that the last Sinn Féin seat we had here was back in 1955 when Paddy Mulcahy held a seat on Limerick City Council.
"We're delighted with the support we got, especially in working-class areas like Moyross, where we topped the poll. There were candidates from breakaway republican groups standing in the Limerick constituency who tried to ruin our campaign but the vote remained with Sinn Féin."
A key message emerging from Sinn Féin's success in Limerick City is that persistence pays off.
"I returned from working in England in 2000 and I went to the annual Easter commemoration that year. The party was at such a low ebb here in Limerick that I decided to get stuck in. A group of us sat down and looked at how we could build the party here.
"We knew we'd have to build from where we were at. You have to start somewhere and work with what you've got. There's nobody going to come along on a white horse and rescue you. There's no white horses out there and there's nobody in Head Office with a magic wand. We had limited resources but we built ourselves up. The more you build the more credible you become and people come on board and help you. They buy into your project. People could see that we could take a council seat."
The breakthrough in Limerick City is important and not just for the symbolism involved in the party's recovery in the city after a gap of over a half a century since last there was an elected Sinn Féin representative there. This breakthrough is also proof-positive of the credibility of Sinn Féin, and very significantly in a large urban region like Limerick and areas that have suffered degeneration and neglect.
"It establishes the party as a key player in the city. We're the fourth largest party in the city now. We've proven ourselves to the public. We've been doing a lot of work on the ground over the years."
This election also allows the local Sinn Féin team to lay the ground for wider development in the county. "We did okay throughout Limerick City and county enough to lay the base for the future."
The good news story of Sinn Féin's performance in Limerick is a chapter in the broader story of results in Munster.
"We had a good election in Munster. We built a cohesive organisation in this province with the help of the party's Organisation Development Unit (ODU) here. We set about reaching the potential Munster probably never reached before. Look at the stunning performance from Toiréasa Ferris who polled hugely in the EU election.
Then, of course, there's the results in North Tipp, especially in Shemie Morris's election as the first Sinn Féin county councillor there since 1957. And David Doran kept his seat on Thurles Town Council."
So what now for Limerick Sinn Féin?
"We'll take stock and consult with local activists. We'll continue to develop the party locally. This city is being strangled. It hasn't been properly developed over the years. Uniquely in Ireland, 42% of housing in Limerick City is social housing. The main issues are the regeneration of the city, the retention and establishments of jobs, and restoring the image of Limerick."
Quinlivan is a proud Limerick man and very proud of Limerick's performance over recent years.
"I'm very proud. Very proud of and thankful to the people of Limerick who voted for me. We have an excellent Sinn Féin team here in Limerick, including Pádraig Malone, our city-wide director of elections (DOE), and my own  DOE, Tony Loughran. A huge amount of work has been put into developing our base over recent years and the result last week is a product of that work.
"I must also say we got a tremendous amount of help from the Sinn Féin team in Leinster House. There are many people to thank – not least my own family who supported me right along the way. And you have to admire Tom Collopy who ran in Limerick City East and broke his leg while putting up posters! Tom is a hands-on man and went out on a Sunday morning to poster. The tie broke. Tom is at home with a plaster on his leg but he's not whining."
So while the story in the capital wasn't all cheerfulness and light this time around, Maurice Quinlivan is not one to mull over things that don't go quite right.
"Dublin took a knock this time but we here in Limerick have 'been there'. We've suffered defeats here in the past but you have to get up again."
Too true and republicans are nothing if not resilient. The lesson from Limerick says it all. If at first you don't succeed, stick at it.
WORKING-CLASS ACT: Maurice in Moyross, where Sinn Féin topped the poll 
An Phoblacht Magazine
AN PHOBLACHT MAGAZINE:
Don't miss your chance to get the second edition of the 2019 magazine, published to coincide with Easter Week
This special edition which focuses on Irish Unity, features articles by Pearse Doherty, Dr Thomas Paul and Martina Anderson.
Pearse sets out the argument for an United Ireland Economy whilst Pat Sheehan makes the case for a universally free all-island health service.
Other articles include, 'Ceist teanga in Éirinn Aontaithe', 'Getting to a new Ireland' and 'Ireland 1918-22: The people's revolution'.