18 June 2009 Edition
McDonald launches 'Task Force for Unity'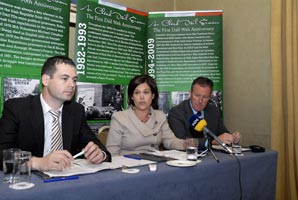 SINN FÉIN deputy leader Mary Lou McDonald has announced that senior party colleagues Conor Murphy and Pearse Doherty will jointly head a Sinn Féin Task Force on Irish Unity.
At a press conference in Dublin last Friday, 12 June, McDonald outlined ambitious plans for the task force, including events throughout Ireland and with the Irish Diaspora in the USA, Australia, England and Scotland.
She also indicated that the work of the task force would be brought into every elected forum on the island as part of the work of Sinn Féin elected representatives.
Mary Lou McDonald said:
"During the course of the past 15 years, Irish republicans have transformed politics on this island. When we set out on the journey of building a sustainable peace process, people predicted that the task was too big, that the obstacles would be too large to overcome. We have proven them wrong. Peace has become a reality. Sinn Féin is sharing power with unionists on the basis of equality."
PRIMARY POLITICAL OBJECTIVE
Mary Lou McDonald continued:
"The next inevitable stage on this journey is the completion of the job of uniting Ireland. That is our primary political objective. No doubt the same people who lacked the vision to see that peace was possible will now say that the reunification of our country cannot happen either. Well I disagree. We have a strategy and we have a political project that will deliver a united Ireland.
"Today we are publicly launching the party's Task Force on Irish Unity. This comes about after months of detailed planning both here in Ireland and with the Irish Diaspora across the world. The seriousness with which we are taking this work can be seen in the decision to place the task force jointly in the hands of Minister Conor Murphy and Senator Pearse Doherty.
In New York the following day, Gerry Adams hosted the first of the task force events. He was joined by former Beirut hostage Brian Keenan and other significant Irish-American leaders and groups for a conference on advancing the united Ireland agenda in the US.