18 June 2009 Edition
Jobs can be saved and created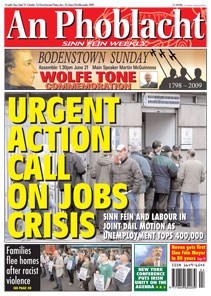 Sinn Féin and Labour in joint Dáil motion as unemployment tops 400,000
BY MÍCHEÁL Mac DONNCHA
THE Dáil this week debated a motion tabled jointly in the names of the Sinn Féin and Labour TDs noting the lack of urgency on the part of the Fianna Fáil/Green Government in the face of escalating job losses and calling for urgent action on unemployment.
Opening the debate for Sinn Féin, the party's Economy spokesperson Arthur Morgan pointed out that figures released by the Central Statistics Office at the start of June reveal unemployment has surpassed 400,000. He told the Dáil:
"Those who have lost their jobs over the past 18 months are waiting for a Government response but losing all hope that it is capable, or willing, to act to retain and create jobs.
"Almost 200,000 people have lost their jobs since the Tánaiste and Minister for Enterprise, Trade and Employment, Deputy Mary Coughlan, took up her position. She should be ashamed of this but she seems almost oblivious to the depth of the jobs crisis we face. Does she even realise that in her own county of Donegal 18,000 people are now unemployed?  
"Where is the job creation strategy and supports for struggling small and medium-sized enterprises (SMEs)? With all the money poured into the banks, why are small businesses still denied access to credit?
"Not surprisingly, the public does not have confidence that the Minister has a grasp of her brief or the resolve required to address the jobs crisis.  
"I come from a small business background and understand the pressures facing small family enterprises, which are good employers that want to create employment in the local community but whose backs are against the wall due to the lack of access to credit and the high cost of doing business.
NO SOLID FOUNDATIONS
"Contrary to what Fianna Fáil argued, particularly in the run-up to the 2007 general election, the economy was not based on solid foundations.  Policies pursued by Fianna Fáil-led Governments have undermined our ability to ride out an economic downturn. We can take as an example the privatisation which led to Eircom and its effect on the roll-out of broadband, or how the dependence on fair weather taxes has resulted in an unprecedented collapse in Exchequer revenue.
"Every day, more people are losing their jobs, and even when they do the Government is not ready to help them. People are forced to queue for hours on the streets to sign on the dole and waiting times for the processing of unemployment assistance applications are unacceptably long for people struggling to pay bills and mortgages. Why can more staff not be transferred from other sections within the Department or from other Departments to ensure that people are treated in a dignified manner? Why has there been no action to address the plight of the thousands of construction workers denied benefits because they were coerced into describing themselves as self-employed by unscrupulous subcontractors?
"Earlier this year, Sinn Féin brought forward an 80-point job creation plan entitled Getting Ireland Back to Work: Time for Action, which we believe has the potential to help retain and create jobs. Did the Minister read that proposal or any of the ideas put forward by any of the other Opposition parties? The plan included the establishment of a jobs retention fund to subsidise workers and SMEs struggling to keep their employees. We propose that this fund should be time-limited and be implemented in conjunction with an increased revenue and labour inspectorate. The subsidy should apply to each individual job and be no greater than €200 per week or 20% of the wage, and it should be reviewed after six months.
"We are also calling for a body to be set up to actively pre-empt job losses by going into companies where jobs are in jeopardy to troubleshoot and offer advice.
DIRECT PUBLIC EMPLOYMENT
"There is a strong case for using the public sector and direct public employment to kick-start the economy. Areas that could be focused on now would include energy efficiency measures, infrastructure, including tourism infrastructure, and the roll-out of high-speed broadband.
"Priority must also be given to our education system, a key to our future economic recovery. School buildings, in which there was disgraceful under-investment during the Celtic Tiger years, should be made a priority. A minimum of 150 schools building projects should enter the architectural and planning stage each year.
"Sinn Féin proposes local authority and public sector construction service and procurement contracts be adjusted to create a level pitch for small businesses to tender. Breaking tenders into smaller pieces allows contractors with less significant turnover to tender for work."
Aengus Ó Snodaigh highlighted the inadequacy of Government education and training measures:
"The Earn and Learn Pilot Scheme provides 277 places while over 12,000 people have been laid in off the past months. I cannot understand why you are so reluctant to invest properly in retraining. You have directed billions of euro into the black hole that is the banking sector yet you do nothing for job seekers. Less than 8% of Irish adults aged between 25 and 64 participate in adult education and training compared with the EU average of 11%. From the last census in 2006, the highest educational level of one in six of the population over the age of 15 was primary school and 36% had not completed secondary education. We have to start addressing this issue right now and we cannot simply use the economic crisis as an excuse for inaction."
URGENT ACTION
Martin Ferris TD spoke of the devastating recent job losses in Tralee and the massive unemployment problem in Kerry as a whole. He pointed out that 79% of people employed in tourism in the State are in the South-West region and that urgent action was needed to sustain and revive this sector.
Concluding for Sinn Féin, Dáil leader Caoimhghín Ó Caoláin said:
"The Tánaiste claims there are adjustments being made in labour costs to secure employment. There is a real fear amongst the population that the minimum wage is about to be cut and general wages depressed across all sectors. In this, the Government is extremely short-sighted. The minimum wage is an incentive to work. Depressing wages will only serve to further contract our GDP and economy as a whole. Are the Government TDs on the backbenches going to continue to support Mary Coughlan in her role as Tánaiste and Minister? Do they think that she has done enough when unemployment is at 400,000 and rising?"
Sinn Fein and Labour propose motion on jobs crisis
The Dail will debate a joint Labour Party/ Sinn Féin motion this week calling on the government to take a number of specific initiatives to halt the jobs haemorrhage and put people back to work. The motion criticises the lack of government action in the face of major job cuts at employers such as Dell, Waterford Crystal and SR Technics, and calls for a number of actions including taking Eircom into public ownership to provide a suitable platform for investment in broadband; the establishment of a National Investment Bank to invest in our own future and help create jobs including by ensuring access to credit for small business; and the fast tracking of business start-ups by creating one-stop enterprise business points to bring together funding, expertise and advice for entrepreneurs who want to start new businesses or grow existing ones.
The Labour Party Spokesperson on Enterprise, Trade and Employment, Deputy Willie Penrose, who will jointly move the motion, said that the May Live Register figures, which saw the numbers exceed 400,000 for the first time ever, were truly shocking and meant the government could no longer ignore the unemployment problem.
"Job creation and training projects that were adequate when there were less than 200,000 on the Live Register are simply not adequate to cope with the massive numbers now out of work. The 200,000 added to the Live Register over the past twelve months is costing the Exchequer €4bn in additional social welfare payments and lost tax revenue. It is clear that we will never get the state's finances back into order until we get people back to work. The motion we are moving with Sinn Féin provides a number of sensible and practical measures to make this happen," said Deputy Penrose.
Sinn Féin spokesperson on Enterprise, Trade and Employment Arthur Morgan said getting the economy back on track and tackling Ireland's unemployment crisis go hand in hand and that Fianna Fáil and the Green's argument that the government's focus must be solely on bailing out the banks in order to stabilise the economy is nonsense. "Ireland needs urgent action from government to retain jobs, create new employment, assist struggling businesses and critically support the development of new enterprises. Sinn Féin made this argument in its pre budget submission to government last October, yet here we are with unemployment number exceeding 400,000 and the government continues to focus its efforts and tax payers' money on bad banks and dodgy developers," said Deputy Morgan.
"Our proposals will support and develop enterprise in all sectors. Tackling unemployment should be the government's number one priority. Those who have lost their jobs over the last 18 months are waiting for a government response – they are losing all hope that the government is capable or willing to act to retain and create jobs," the Louth TD concluded.
• UNEMPLOYMENT: Sinn Féin calls for urgent action, Morgan, Ó Caoláin and Ó Snodaigh