28 May 2009 Edition
Six Counties, South and North West EU constituencies profiled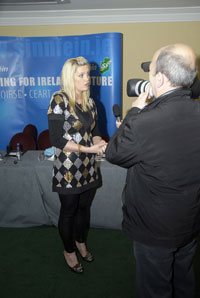 Sinn Féin hat-trick possible

BY ROBBIE SMYTH

SINN FÉIN should hold its Six-County seat won in 2004 and and the party is in the running to take last seats in South and North West as the EU elections begin the last seven days of campaigning. But none of that will happen if we don't keep on canvassing, leafleting and fighting for every vote right up to when the polling stations close.

South

Sinn Féin vote 1994 to 2004

Year    Total Vote    % share     Turnout
1994    5,171    1.42%    48.98%
1999    29,060    6.48%    56.17%
2004    32,643    6.74%    62.12%
THE recent history of the rising republican vote in the Munster/South constituency demonstrates the potential growth in Sinn Féin support that is putting the party in a position where they are challenging in 2009 for the last seat in this region.
The mid-May TNS mrbi poll put Sinn Féin's Toiréasa Ferris at 12%. The poll performance of the Kerry councillor and former mayor is all the more remarkable as here there is a clear shift in voter sympathy away from Fianna Fáil towards Sinn Féin and the Labour Party, with sitting MEP Kathy Sinnott's seat looking under threat as we move closer to polling day.
Between 1994 and 1999, Sinn Féin support more than quadrupled in this constituency and is set to jump again in 2009. An added vital factor is the volatile nature of the Munster vote in EU elections in all its incarnations as a five-, four- and three-seater constituency.
When the seat was electing five MEPs in 1989, there was an Independent, TJ Maher. And, also in 1989, it returned the only Progressive Democrat MEP in the form of Pat Cox, who was elected as an Independent in 1994 and 1999. Sinnott was the Independent elected in 2004. Now, in 2009, expect Sinn Féin to be in the photo-finish for the last seat here.

North West
Sinn Féin vote 1994 to 2004

Year    Total Vote    % share     Turnout
1994    13,939    5.99%    47.87%
1999    20,457    6.39%    61.35%
2004    65,321    15.5%    63.29%

THIS election in 2004 produced the surprise package to everyone except Sinn Féin who knew from their on the ground campaigning the inroads the party were making in getting voters to come out for Pearse Doherty. In the 5th and last count, Doherty was narrowly beaten out of a seat by Fine Gael's Jim Higgins.
The vote was so tight that no MEPs were elected until the fifth count. In the years since, the Sinn Féin vote has grown further in key Dáil constituencies within this region, particularly Donegal South-East and North-West as well as Cavan/Monaghan and Leitrim. Now Donegal Councillor Pádraig Mac Lochlainn is the Sinn Féin candidate.
One thing that hasn't changed since 2004 is the perpetual in-fighting inside Fianna Fáil over who will or won't contest the seat. Fine Gael too are again risking a two-candidate strategy. There are 13 candidates standing in North West, higher than any other EU constituency on the island, making the result all the more difficult to predict except that Sinn Féin could take this seat from either Fianna Fáil or Fine Gael. Expect a recount on this one this time around.

Six Counties
Sinn Féin vote 1994 to 2004

Year    Total Vote    % share     Turnout
1994    55,215    9.86%    48.67%
1999    117,643    17.33%    57.77%
2004    144,541    26.31%    51.72%
SINN FÉIN'S ongoing growth in the Six-County EU contest has been phenomenal and in 2004 gave Bairbre De Brún the seat for Sinn Féin. She is running again in 2009.
Mitchel McLaughlin narrowly missed out on taking the seat from the Ulster Unionist Party in 2004. On the third and last count, he was less than 2,000 votes behind Jim Nicholson.
This is perhaps the only EU constituency on the island where no change is expected in the make-up of MEPs elected, but all eyes will be on vote share and pecking order. For years the UUP have depended on DUP or other unionist transfers to win this seat, and with former DUP MEP Jim Allister running as an Independent (or Traditional Unionist Voice) a lot of the focus is on the contest within the unionist electorate and how many votes, if any, Allister will take from the DUP
The current state of party strength is hard to predict as opinion polls in the North are rarely close to accurate, so the EU poll will become the most accurate political thermometer as we move closer to Westminster elections in the North.
  ALL ABOARD: Gerry Adams and Bairbre on the 'bustings'